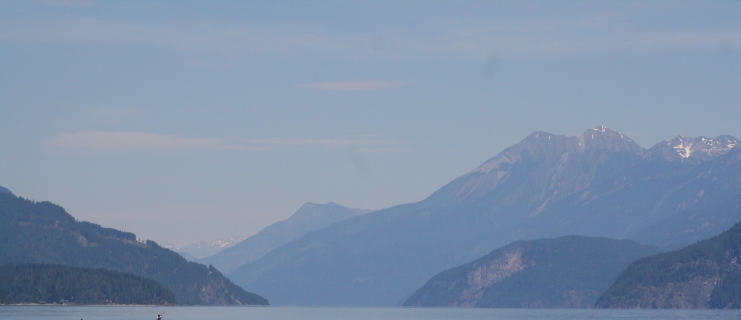 You are here
Paddle Kootenay Lake: Story 4 - Day 3
Day 3 – Kaslo to Woodbury Resort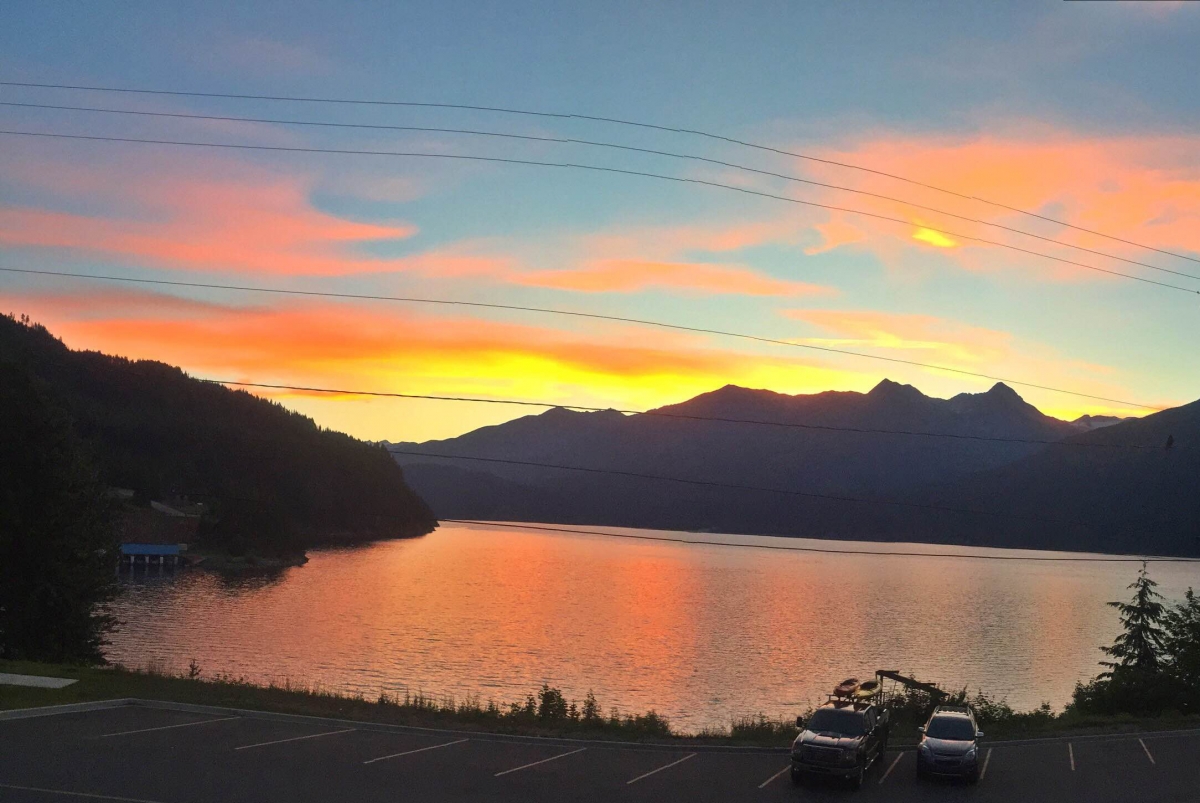 Why does one wake up so early when it is so quiet outside? (photo taken from my room at the Kaslo Hotel - sunrise)
My cozy quiet bedroom overlooking Kootenay Lake had me unaware of the wind and waves crashing down at Moyie Beach where Candide, our 42' boat from the Kaslo Shipyard was anchored. At 5:30am the warm wind was coming in strong, which initially was a concern until I acknowledged its southernly blow in our favour down the lake.
At 8am people were gathered and pretty much ready to do our 16km paddle to Woodbury Resort and Marina to camp, RV and stay in cabins – a rather complex place – and of course it also has a marina. It was already hot, not sure how hot, but hot enough to reposition my hat in a Parisian kinda-way, to keep the heat off my face and neck.
The wind was welcomed as it helped us reach Fletcher Falls in record time: 8.5km in 1-1/2hrs. Kayaks, canoers and paddlers had fun riding the waves, gently pushing them along. No one fell into the water that I know of — well at least not before our morning break.
Fletcher Falls
The 30 of us gathered and had a break at Fletcher Falls for over an hour. We had water gun fights, ate, swam, checked out the huge waterfalls from above and below (one Calgarian went under the pounding waterfall!), and we even watched the co-captain do some fly fishing. It was magical. The airhorn blew and off we all went for our final 1-1/2 hrs of paddling to Woodbury Resort. The wind had calmed by now so to keep the fun factor going the Candide looped around us and made big waves that many of us tried to surf. We have some surfing footage with some hilarious falls which will be disclosed in our final video in the bloopers section.
Sweet Success
I've gotta say it was another incredibly successful and satisfying day on the water. A big sincere thanks to the gods of the earths elements. At the end of the day as I was coming in behind some of the other paddlers, another paddler and I paused and just floated for awhile. We talked about how we both felt the same: we didn't want to get off the water. It is a zen place. A place of calm and focus and meditation, allowing ourselves to be in the moment. Nowhere else is considered, and honestly there's nowhere else I'd rather be, but paddling on Kootenay Lake.
It was a hot, tiring day, so some time in the shade is in order and then off to dinner at JB's Pub and Restaurant where they have the best fish and chips around!
Cody Caves Tomorrow
Tomorrow is a short paddle, 5km to Ainsworth Hot Springs. Some of the people are staying at Woodbury for two nights, paddling there and back in the morning then joining us for Cody Caves at 2pm. I think that will be the place to be with temperatures around 40 degrees. A nice cool cave. Come join us for a paddle or an adventure into Cody Caves. Bring warm clothes. See you there at 2pm.
Check out our facebook page for photos of the days.
HAIKU FOR THE DAY
Blue water blue sky
Reflections in my mind, dream
Candide laugh and free