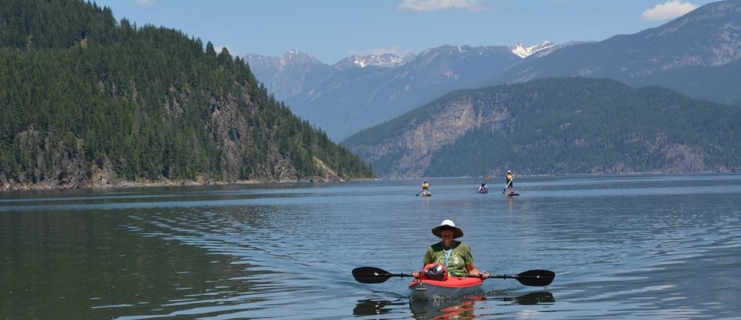 You are here
Paddle Kootenay Lake: Story 3 - Day 2
Day 2 - Schroeder Creek Resort to the Village of Kaslo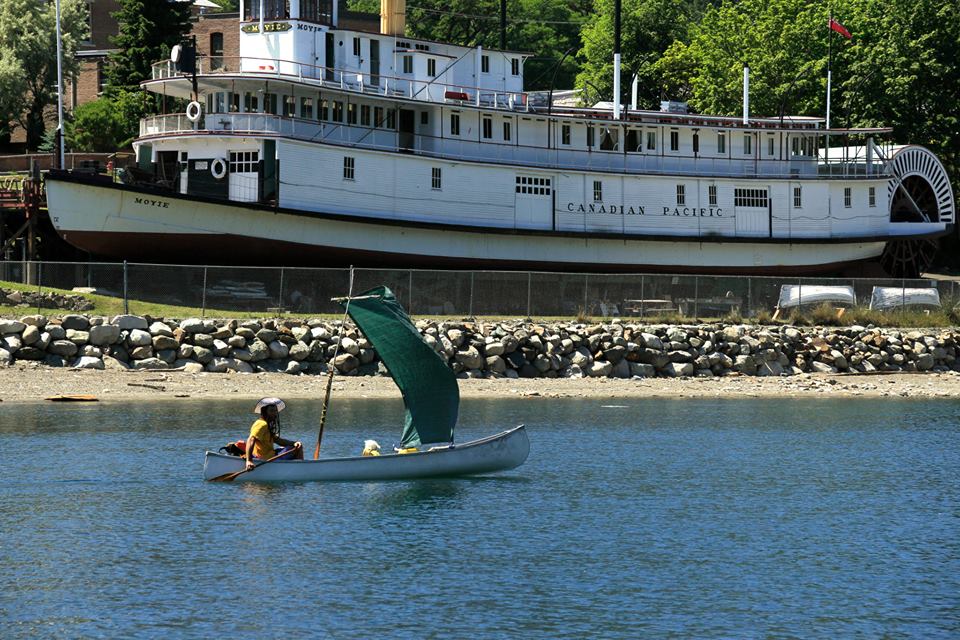 We broke all the golden rules of the Kootenays and left this morning on time, at 8am from our heavenly camping spot at Schroeder Creek Resort. 17 paddlers with kayaks, SUPs and even a sail on a canoe that was guided by Yoda, with Fred as the passenger. There wasn't much wind so the sail didn't really function all that well, but it was a heroic attempt.
It was a 14km paddle as anticipated. We stopped more frequently today to rest the arms and get off and out of the boats. Our mighty 42' boat from Kaslo Shipyard kept everyone safe and hydrated. Our favorite stop was at Wing Creek Resort where the owners met us on the beach with a cooler of chilled water, juice and granola bars. Muchly appreciated Deb and Kevin! We carried on for the last hour, around the final rocky point to Kaslo where we were greeted by the Mayor and other delegates and citizens of Kaslo. What a grand welcome!
Hot stuff
After arriving and settling into the Kaslo Municipal Campground and the Kaslo Hotel, we had intended to go for a walk on the picturesque Kaslo Trail, but after 4-1/2 hrs of being on the water in the heat, it was sadly decided that we would hide from the heat until it cooled down a bit. We heard that the day was 32 degrees – yikes. Thanks Val for offering to take us on the walk. We will come back and do it on a cooler day, when we are less exhausted. With the heat hopefully giving us some reprieve we will be golfing 9 holes up at the Kaslo Golf Club later tonight. If you haven't golfed it yet, it's a beauty with the course overlooking the lake and big glorious trees all around.
Planning for Day 3
With 42 people planning to paddle, and temperatures hitting 38 degrees, we will definitely be on the water at 8am sharp. We'll journey from Kaso to Woodbury Resort and Marina. Thanks for following our grand adventure.