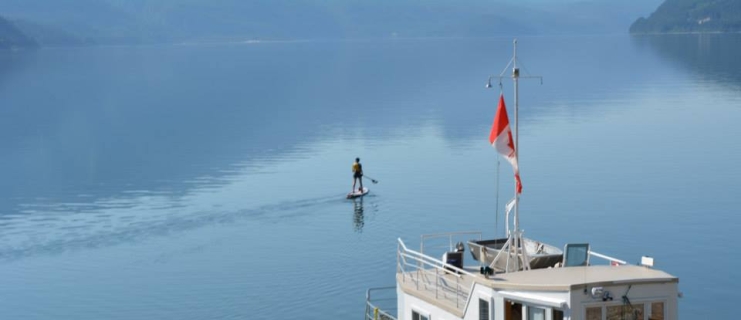 You are here
Paddle Kootenay Lake: Story 2 - Day 1
Day 1 - Davis Creek Provincial Park to Schroeder Creek Resort
Some days in life are better than others and today was one of those days I'll remember for a long time. After almost a year of planning, today was when it all came together, and it was definitely worth the hard work.
People arrived at our waterfront camp site at the newly renovated, stunning, Davis Creek Provincial Park. They signed in, everyone helped each other carry their boats and gear to the beach; we did a safety talk and with smiles and apprehension off we went. Fantastic! Yahoo! Finally, out on the water paddling, breathing, sharing stories, soaking in the views and dipping hands and toes into the water to refresh and connect, to her, our Lake.
We're Off! Our First Day Was Warm and Lovely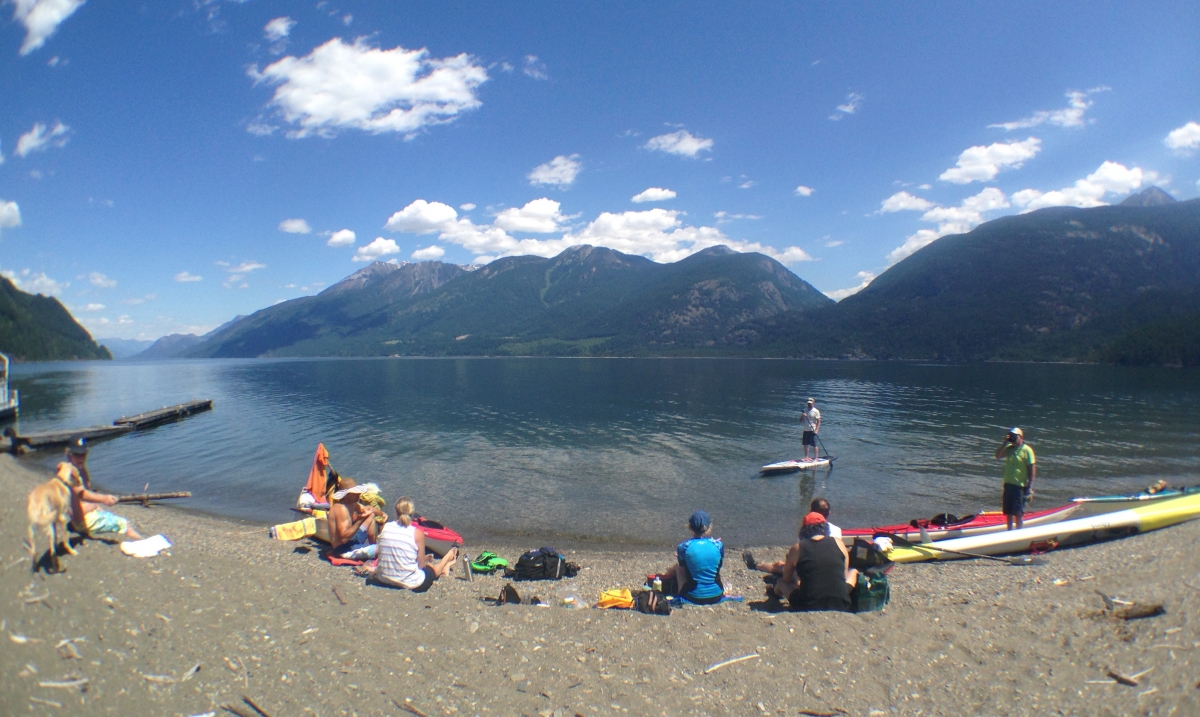 With glass-like water, and unseasonally warm temperatures, our 9am departure resulted in 3 hours of stellar paddling. 14 of us paddled, chatted, and probably, like myself, gave thanks to an amazing day. With our 42' Candide boat from the Kaslo Shipyard we had a safe journey, as the boat moved up and down the lake checking on paddlers. We finally stopped for lunch at 12 kms, a bit later than planned, but everyone seemed to be doing pretty good. Our lunch spot was hilarious because our planned 17 km trip was actually only 13 kms. It seems that as the crow flies, or as the boat paddles, from Davis Creek Provincial Park to Schroeder Creek Resort it is only 13kms. So when we stopped for lunch we were actually only 1km from the campground. But all the same, it was wonderful to all sit together, relax, laugh, eat and enjoy our successes.
Our Lake is a Tempermental Quick Changing Lake
Now, after lunch was a different story. Wind. Where did that come from? We made our way around the bay into the open water and whoosh, there it was, that forbidding wind. Waves, whitecaps and rocks to our right had us all paddling hard and mono-directional to make it to the Schroder Creek dock. The bank of rocks protected us as we approached the boat launch and restfully unloaded from our boats.
Lakeside Hospitality at Schroeder Creek Resort
The operators at Schroeder Creek Resort were over the top – coffee when we arrived, then a huge bucket of ice filled with a variety of drinks delivered to our campsite. Is this place for real? They sincerely asked "If you need anything, just come ask." We of course took them up on their offer and got assistance with wifi, phone, happy hour, and some very refreshing towel pucks. We'll come back here for certain. One of the paddlers is even thinking about renting a site for a year!
It's dinner time now, some homemade chili, a rainbow trout caught this afternoon, perhaps a beer, some music on the boat, and then a good night's rest. Tomorrow is another big paddle day, 12km to Kaslo. We're looking forward to meeting up with the locals and Mayor as we arrive at the SS Moyie, about 11am. Come welcome us in, or even better, come paddle with us. We'll be departing Schroeder Creek Resort at 8am, Kootenay time.
Come Paddle With Us
For more photos check out our facebook photo album. Photos are from our blessing at Jewett School on June 24 where the children wrote and performed a song for us wishing us well on our journey. A very special and heart warming experience. We also rafted down the lower 3km of the Lardeau River with Nelson Whitewater Rafting for the afternoon which was beautiful, rich in animals and vegetation and mellow. The album also includes photos from Day 1. Too much to share over the past 2 days, but hopefully it entices you to get out and enjoy Kootenay Lake and all she has to offer.