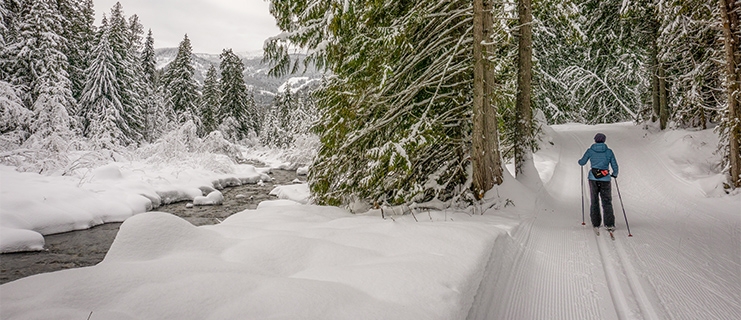 You are here
A Nordic Paradise in Nelson and Kaslo
By John Bowden | Cover Image by @carlo_alcos |
If variety is the spice of life, then Nordic skiing in the Nelson and Kootenay Lake region has enough options to match the local dining, shopping and accommodation scene. It's definitely worth spending a few days to explore the trails and complementary après-ski activities.
Nelson
Avid Nordic skiers would do well to start their journey at the Nelson Nordic Ski Club. It's a short 10-minute drive from Nelson at the turn off to Whitewater Ski Resort. More than 30km of beginner and intermediate trails are groomed daily for skate and classic skiing.
If you're wondering where to start, General Manager Jason Rusu has some advice. "The Busk-Euphrates trail has it all. It's technical in sections, meanders along the river, showcases pristine nature, and features the newer Euphrates A Frame shelter to warm up in." The 5.5km mostly flat loop is a local's favourite.
Keen to focus on your fitness? Head to the Clearwater trails, with three mini loops and a challenging 7km climb. Part of the beauty of skiing at the NNSC is the mild climate and varied trails. "It's rarely windy here, and with three warming huts, lots of beginner terrain, and a fair amount of technical terrain, it's a very pleasant and welcoming experience," notes Rusu.
Don't miss the annual "Tour de Soup" on Saturday February 9, featuring a variety of hearty soups from local restaurants in support of local programs and initiatives. Wednesdays are also a great time to Nordic ski, with $5 admission, 50% off rentals at Gerick's, and après-ski specials in town. And with more than 70 restaurants and 30 hotels, there really is something for every taste and budget.
Check out their events page for more information about the many exciting events they will be hosting in February and March. For all the regions events (ski, food, music and travel deals, and more), visit our online calendar.
Whitewater Ski Resort has 5km of groomed and ungroomed trails that are family-friendly. Cross Country Skiing packages and private lessons are available on Saturdays and Sundays for all ages through the Mountain Adventure Centre.
The Cottonwood trail links up with the Great Northern "rails to trails" pathway that descends all the way to Kootenay Lake. The upper section between the Mountain Station neighbourhood in Nelson and Cottonwood Lake is usually skier track-set and makes for a beautiful out and back. It's also dog-friendly.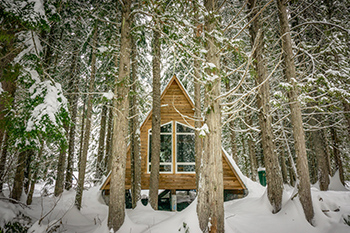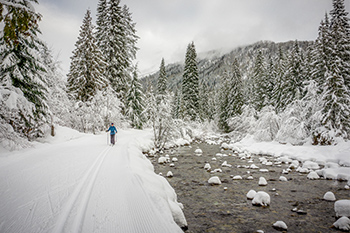 Balfour
Head east along Kootenay Lake for some gentle Nordic skiing at the Balfour Golf Course. Locals often set tracks according to snow conditions. Bending north, don't miss a stop at Ainsworth Hot Springs, an unbeatable après-ski activity. A little further up the lake is the charming waterfront town of Kaslo, home to some great Nordic skiing just a few minutes away on Highway 31A.
Kaslo
The Kaslo area is popular for Nordic skiers who relish the challenge of hill climbs. A 10km tracked classic trail gains just over 500m in elevation and features a few rolls and flat areas. Track groomer Stu Heard recommends catching your breath at the Bucky Hut (complete with a small fireplace) and enjoying the great views of Kootenay Lake below.
A more mellow 2km out and back trail (for a total of 4km) near the Moose Meadow hut is ideal for beginner-intermediate skiers. The dog-friendly route winds its way through cedar forest, and is a peaceful way to embrace the stillness of winter. The only noise you're likely to hear is the sound of the Kaslo River far below.
The annual Winter in the Forest event is on Family Day (February 18) and is a great opportunity to try cross-country skiing in Kaslo. The Kaslo River trails are ideal for snowshoeing and winter walking, while Taqueira El Corazon and Bluebelle Café' serve up warm and hearty fae ideal for the season. Don't miss the new Hazy IPA at Angry Hen Brewing, a stay at the well-appointed Kaslo Hotel or Kaslo Motel are always in good taste, or head to The Sentinel for a Cedar barrel soak and sauna.
With so many cross-country skiing trails and après-ski options to choose from, winter really is wonderful in the Nelson and Kootenay Lake region.