You are here
Nelson: the Fire {Proof} Town on Kootenay Lake
Nelson, British Columbia has what some might call a fiery history. From its early boom town days of silver mining, to the flowery but protest-laden hippie culture to the present day, where the town's vibrancy seems to literally light on fire the idea that yes, in fact, you can have a bustling economy and thriving community at the same time.
However, in Nelson, people may have a fiery attitude, but the town itself has taken fire prevention very seriously throughout its history.
Nelson's Bangup Fire Company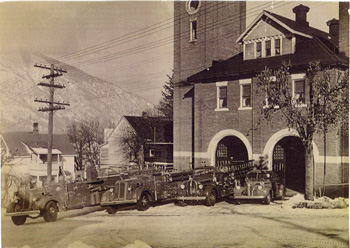 When Nelson was new, back in the late 1800s, our first mayor, John "Truth" Houston helped raise money for a fledgling fire company. At the annual meeting, which took place at the Nelson Hotel, Houston raised a toast to the fundraising efforts of his fellow citizens, saying "Nelson will ere long have a bang up fire company." How true those words have been all these years later.
In 1913, the current fire station was built on Ward Street. The steep hillside location means that the modern fire engines have some trouble backing into the garage on snowy winter days. But it was that steep hillside location that gained Nelson the spotlight in the 1987 Steve Martin hit Roxanne. They were looking for a hertiage fire station on a hill, and they found it in Nelson. That serendipitous hillside location gave Nelson and its fire department a much needed boost during a time when everyone was beginning to pull to restore Nelson's heritage buildings. Now, with 350 beautifully restored heritage buildings in our town, we are rightly known as the heritage capital of British Columbia, with the oldest working fire department in the province.
Thank Goodness for Fire Prevention
Fire prevention has had another part to play in our standing as heritage capital. When Nelson was just beginning, tents were set up along what is now Ward street and over the span of a few years, the town grew to 3,000 people. At that point, Nelson incorporated. The year was 1897, and Nelson opened its first post office, and elected its first mayor, John Houston. A town was born. Unlike other boom towns, Nelson somehow had the foresight to require that downtown buildings be made of stone, not wood and erect brick firewalls between downtown buildings. This ensured their longevity and helped with fire prevention.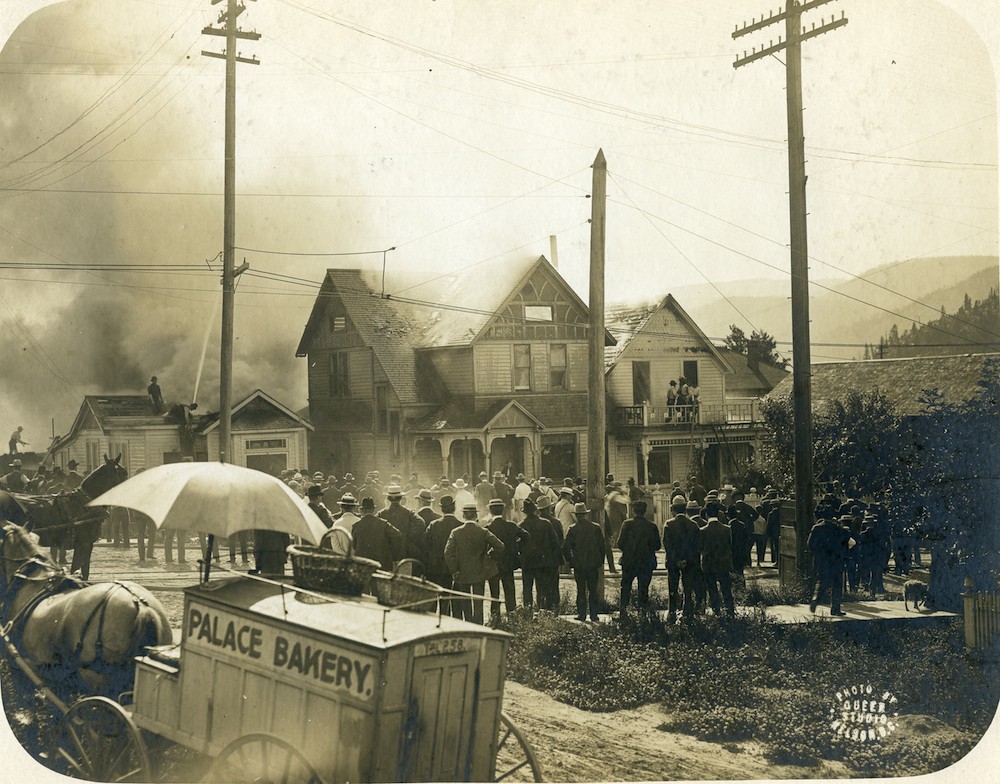 Taking such care with both volunteer fire brigades and ensuing that buildings were well made to withstand fire came about for good reason. Many of Nelson's Kootenay neighbours including Rossland in 1902, Sandon in 1900 and Fernie in 1908 were hit by major fires. The Fernie fire consumed the entire town in 90 minutes flat. Nelson, though, was for the most part spared this fate. Buildings were built along the downtown core and throughout the city and Nelson quickly grew to have the most modern well-equipped fire department in the area.
Over the course of the twentieth century, buildings began to be covered in vinyl and other "modern" coverings. In the late 1970s, in honour of Nelson's upcoming centenial, many heritage buildings were restored and Nelson began to be recognized as the heritage capital of British Columbia. Because the buildings were originally made from such sturdy materials, and because they had been protected for decades covered in "modern" siding materials, the buildings that now line our streets stand out as shining examples of heritage restoration.
Fiery Things to Do in Nelson
Our firehall is used to visitors, with hundreds touring the museum each year. Yes, it's where Roxanne was filmed, but it is also the oldest working fire hall in British Columbia. There's lots to see, including a working fire bell with a couple of the still working, still intact old fire alarms. These old alarms used to be placed throughout the city, and citizens would trip the switch on any of these boxes, which would alert the fire department of a fire at the location of that box. Take a tour of the old fire hall. You will not be disappointed.
And of course, you can take a Roxanne walking tour around the city. A tour guide is available at the Nelson Visitor Centre. The tour takes you along many of our winding uphill streets, and of course past the fire hall as well.