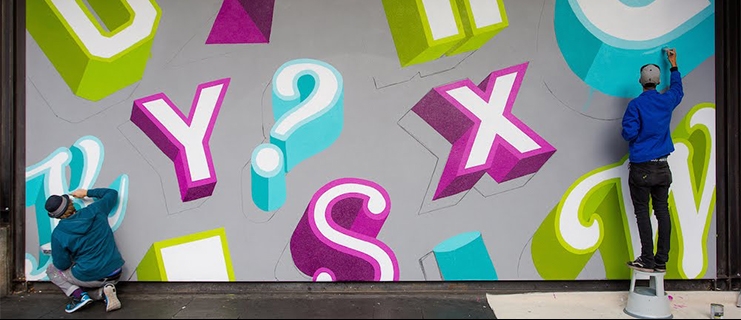 You are here
A Mural to the Sky
By: John Bowden | Cover Photo: Alex Fowkes
Popularly known as Canada's best small arts town, Nelson is thinking big these days. So big that it's embracing street art throughout it's storybook downtown core, including a towering mural from an internationally recognized artist as a part of the Nelson International Mural Festival.
Alex Fowkes has worked with some of the biggest names in branding, including Sony, Urban Outfitters, Toyota and London's O2 Arena. His stunning typography has been recognized throughout Europe. But he's just getting noticed in North America since recently trading the hectic London lifestyle to live in Squamish.
I caught up with Fowkes between art installations at the Squamish Constellation Festival to ask him about his upcoming mural in Nelson. "I spent about two months living in Nelson and skiing at Whitewater in 2013; it was my first exposure to BC."
An avid snowboarder, he's embraced the West Coast lifestyle and is keen to make the influences of the Pacific Northwest come through more in his art. "It's still bubbling under the surface" he notes. But expect to see some of that motivation, combined with his take on the Nelson and Kootenay Lake region, reflected in his upcoming mural.
"There's definitely a feeling and a vibe in the Kootenays that is free-spirited and trusting in the way things are, and how they work. I wanted to take this internal feeling and make it more public, bringing something inspirational into the town centre."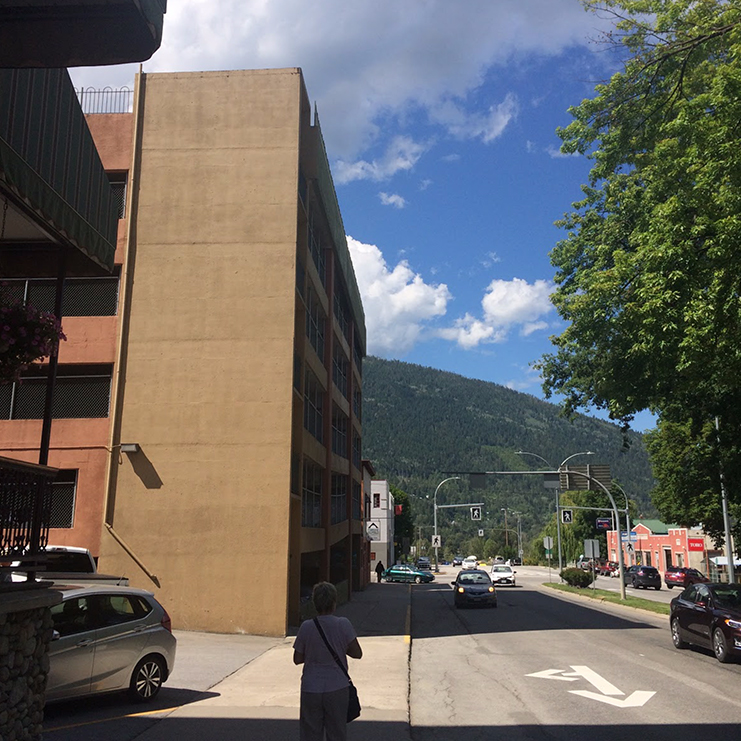 The blank parkade wall that Fowkes will be painting later this summer.
Fowkes will be using this inspiration to paint the 5-story parkade near the heart of downtown Nelson. The vertical canvas provides a unique opportunity for his mural that will revolve around one word. "I want to guide your eyes towards the sky, and all the things you want to do as a person. Typography allows me to communicate with both the visual style of the word and its meaning."
And that word? If you're keen for a sneak peek, Alex will be getting his mural underway about a week before the festival. He's intent on taking his initial sketch to new levels. "I want to make the finished version a hell of a lot more impressive than the draft, so that it's impressive and interesting before you even think about what it means."
Although this will be his first mural in Nelson, he is familiar with the local street art scene. He's painted with Nelson resident and muralist Jessa Gilbert, who is also creating a series of murals for the festival. Jessa joins other artists including Kevin Ledo, JP Langois, Matty Kakes, and Benji Lowclass who are creating murals around Nelson. Some of their work from previous years is also on display. The full roster of sites is at https://nelson-ca.streetartcities.com/
The cultural hub of the West Kootenays has long been celebrated for its thriving arts and culture scene, so a mural festival is a natural fit for this lively community. "We have such amazing facilities here, including the Capitol and Civic Theatres, Touchstones Museum, and Oxygen Art Centre, but we wanted to take culture beyond those walls and into the streets to make it more public" notes festival organizer Sydney Black, executive director of Nelson District Arts Council.
After a successful inaugural event in 2018, the city of Nelson and partners are working hard to take the festival to another level this year. Expect a huge music component, plus workshops, theatre, dance and more over 3 days of accessible public art. "Best of all, everything is free, for all ages, and all humans" notes Black. The Nelson International Mural Festival runs from August 16-18, 2019.
#findingawesome #kootenayarts #nimf2019