You are here
MSBike 2015 — Ride Because You Can
The Scotiabank MS Bike West Kootenay Glacier Challenge
Why should you cycle alongside Kootenay Lake this August 22nd? Why should you then continue the next day and cycle along forested highways to Salmo? Because you can. If you can do it, if training to ride for MS Bike is something you are able to do, consider doing it. It's a ride that takes you through some of the most gorgeous country in the Kootenays. It's not the easiest ride on the MS Bike roster, but it may be one of the most fulfilling.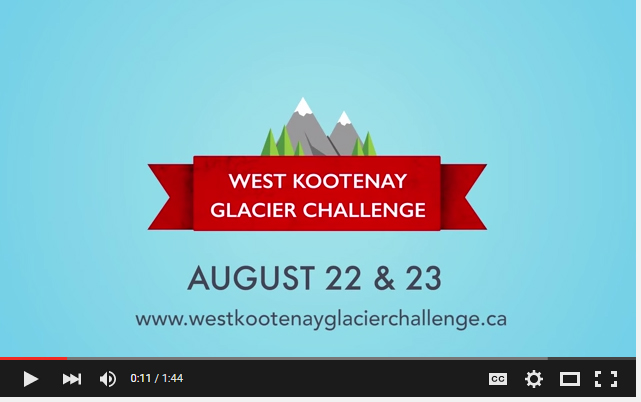 Day One — Toward Salmo
The ride takes you climbing up inclines that will test your grit, down hills and along back country roads through pine forests and this year, even across a small ferry. Because of road work this summer, the MS Bike committee is changing the route a bit, making it actually an easier ride than usual, but still challenging. The ride will start and finish in Nelson this year. Day one, you'll leave Nelson and head out toward Salmo on the two-lane highway that winds past the turn off to Whitewater Ski resort and past lovely countryside. Two rest stops on this day, and lunch in KP Park in Salmo will give you the chance to take in your surroundings and contemplate how very lucky we are to have access to this kind of gorgeousness all summer long.
You'll finish the 88 kilometre ride back in Nelson, in time for the traditional Save On celebratory dinner in Lakeside Park's Rotary picnic area.
Day Two — Toward Proctor
Day two will take you through Nelson out along the Big Orange Bridge across Kootenay Lake and out toward Procter. You'll actually ride the Procter ferry, a short 5 minute ride across the lake, and then through lovely countryside past pasture with grazing cows and horses to the Village Bakery in Proctor. The Village Bakery is home to the best cinnamon bun you will ever try. Some might say that this is reason enough to join in on the ride...which may be true.
In any case, the cinnamon bun will help your spirits as you head back to Nelson and the finish line! This route is quite different from previous years, and will the route will return to the traditional one next year. For a more detailed description of this year's route, take a look at this link.
A Challenge This Summer
Training for a ride like this, one that can benefit so many people, is the challenge we'd like to present you with for this summer. Getting in shape is a great goal. Getting in shape and tackling a ride like this while helping to raise money to end Multiple Sclerosis turns what is a wonderful personal accomplishment into something so much more: the knowledge that you're changing lives, which makes every mile that much more meaningful.
The Scotiabank MS Bike West Kootenay Glacier Challenge provides all you need for a fabulous weekend: rest stops, food, entertainment and support. And when you commit to doing this bike ride, you are also committing to do your part to help end Multiple Sclerosis. All the money raised by the event goes to the West Kootenay Chapter of the MS Society to fund local programs and services for people affected by MS and to support critical research for improved treatments and to find a cure.
Multiple Sclerosis: It Affects Us All
Multiple Sclerosis usually starts slowly. It's often hard to diagnose, and when you finally do get that diagnosis, it's a mixed feeling: there is no cure, but at least you know that there's a reason for all those symptoms you're experiencing.
Because MS doesn't look the same for everyone, it's also hard to know how to tell people about it. Blurry vision, difficulty with balance, fatigue, pain and emotional changes are all part of the picture. Not everyone with MS will experience all symptoms. The disease also can start slowly and progress slowly, or escalate very quickly, or go through periods of remission.
But everyone with MS knows one thing: at the present time, there is no cure.
And Canada has the highest rate of MS in the world. Nelson Kootenay Lake area has a high rate for Canada.
Luckily, the West Kootenay Chapter of the MS Society has a strong mandate to do as much as possible for its members. With Executive Director Leona Dimock leading the way, the chapter has several very successful fundraising events each year. The Scotiabank MS Bike West Kootenay Glacier Challenge is one that really challenges you as you do your part to raise money.
Join in, Create a Team & Start Fundraising!
This year, the fourth annual West Kootenay Glacier Challenge has hit its stride: with more riders signing up each year, and more money raised each year, the goal in 2015 is to go even further. Sign up today as an individual or join a team. You can even create a team if you'd like — it's a great way to stay motivated and keep that momentum flowing as you train and raise money. Once you sign up, you'll get reminders about training opportunities, fundraising incentives, and motivational emails.
Next Year, Route Will Return to Traditional West Kootenay Glacier Tour
This year, because of highway construction, the route has been changed to take cyclists along Kootenay Lake to Proctor and then back to Nelson and out to Salmo, returning again to Nelson. Next year, however, the route will return to the 222 kilometre route around the glacier from New Denver to Nelson to Kaslo and back again to New Denver. Both rides are awesome and take you along some of the most spectacular scenery in the world (no exaggeration). Learn more and sign up today!
We can't wait to see you out there this year riding on August 22 and 23!
Cover photo taken by Kathryn Gardner