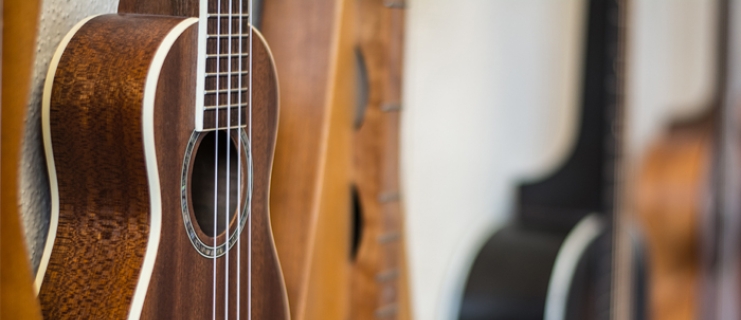 You are here
Mountain Fruit Folklore Centre and the Explosive Power of Music

Let's start this one off with a bang, shall we?
Jeremy Behn of the Mountain Fruit Folklore Centre in Kaslo has this to say about musical instruments: "Surely, musical instruments are one the most powerful tools humanity has ever invented (and continue to invent), right up there with gunpowder I'd say." That made me smile. In fact, I hope you'll be brimming with joy after reading about Jeremy Behn and his ideas about folklore, Kaslo, music, the digital age and the Kootenays.
Kaslo: Come for the Vibe, Stay for the Love
Jeremy came to Kaslo in 2002 when his first son was just learning to walk. Wanting his children to experience the small town life he had growing up led him to Kaslo, but, as he said, "Kaslo pretty much chose us." When I asked him what he loves the most about Kaslo, he answered like this: "How small it is. How wild it is. How beautiful it is. How trusting." Yes, yes... And then, "How much history comes to life. How political, how friendly and how safe it is for my kids." It's hard not to be taken in by his vision of Kaslo. And also, "How off the beaten track it is. How easy it is to get your neighbour to lend a hand. How supportive it is of my Mountain Fruit Folklore Centre and other local biz'." And finally, "How I never stop finding new things to love about this place like walking the back alleys on my way home. How much it has allowed me to grow. How musical and creative it is." Wow. It's hard not to love Kaslo, but Jeremy's answer must have given you a few new reasons.
The Mountain Fruit Folklore Centre
Jeremy began as an artist and sculptor and through serendipity found his way to hand crafting musical instruments. Introduced to an icon in Canadian lutherie and intrigued, he took a course in guitar making from Michael Dunn at Douglas College in New Westminister. Since then, he's continued to train and learn and "grow into the idea of paying my bills with these skills."
He's drawn to "making, period — canoe paddle, sculpture, house or stringed instrument". He's recently made Marimbas, and helped a friend guide a group of kids at the local high school to build electric guitars.
"Stringed instruments can speak to a deeper place in me," he says, which has to do with their life in relationship first to the maker, then to the repair person and then to the intimate relationship with those who make music with them. "An instrument can lead many lives of its own spanning several human companions and lifetimes and that is quite amazing."
Unexpected Joy
Through the Mountain Fruit Folklore Centre (Canada's Smallest Music Shop!) Jeremy is helping people get the tools they need on their musical journeys. Repair has been the focus for the last few years. It's deeply rewarding — "folks are often deeply attached to their instruments, so there is much trust involved. It feels like right livelihood." But recently, he's "been pleasantly surprised with finding and selling products (or inventions if you will) that I believe in." Introducing people to instruments and to music, indeed, finding connections is one of many gifts Jeremy brings to Kaslo. As he says, "One unexpected joy has been all the connections between people, musicians, history, etc. It's as though my vision for this endeavour was simply a vehicle for a portal of connection that was awaiting a location."
Will Jeremy continue to make instruments, though? Here's his answer: "I love making instruments and I've been too long from it! With a "wonderful full-time employee," Kevin John, of the Selkirk Music Program, Jeremy's time is potentially freeing up to actually make instruments again. Fingers crossed.
The full vision includes space for in store concerts and workshops. Take a look at Halifax Folklore Centre or Dusty Strings in Seattle for an idea of what this might look like in Kaslo.
The Interconnectedness of Folklore
Jeremy holding folklore and culture front and centre shines a gentle but persuasive light on its importance to our lives. Music at the centre, but, as he says so eloquently, "I've come to think, as I grow older, that every aspect of folklore is equally important. The interconnectedness of all the aspects of a culture are undeniable. The farmer wants to dance to live music at night, the musician wants fresh vegetables in the fridge, the logger needs an accountant, the accountant needs groceries and the evolution of it all happens right under our very noses as we navigate each generation of children into a mystery awaiting. We pass on what we know as best we can and new facets of the existing folk/culture emerge."
A Vision for What Small Towns Can Do
And where will all this lead?
"In this new digital realm anything seems possible; I always look to the success of the Kaslo Jazz Fest when I need inspiration about what can happen in small towns." He's on the board this year and can tell us that this year is going to be fantastic. And certainly, from the example of the Kaslo Jazz Fest, the vision to grow the Mountain Fruit Folklore Centre into "more of a cultural institution than just a place to 'buy stuff'" seems immenently possible, if not probable.
Kaslo is a vibrant community with shopping and music on many street corners and in dining establishments. Come for a stay and tour the village and area, you'll be pleasantly surprised and you'll wish you'd stayed longer.