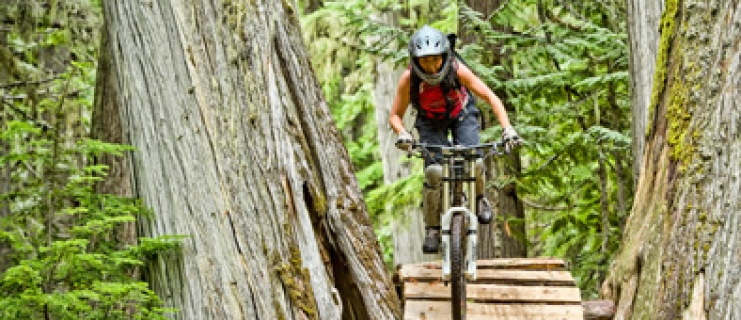 You are here
Mountain Biking in Nelson and Kaslo
Riders of all ages gather to race!
Dust Off Your Bike & Grab Your Body Armour...
It's mountain bike season in the Nelson Kootenay Lake area. First thing you've got to do, after getting your bike tuned up at one of our local bike shops and making sure you've got the helmet and padding appropriate for what you will ride, is to pick up your copy of the Nelson Mountain Bike Guide. You can pick up a copy at many different locations around Nelson, including the Visitor's Centre, Valhalla Pure, and Gerick's. PinkBike also not only has a great write up about the guide, but has a link that let's you buy it online. If you have the 2009 version, you're going to want this revised 2013 edition, because it's got 40 more trails plus special bonus sections on local bike parks and off-road touring suggestions. It also includes a great business directory with places to eat, stay and shop while visiting us. So pick up a copy. All proceeds go to the Nelson Cycling Club, which is a super great organization that is committed to promoting cycling in our area.
Mountain Biking on Local Nelson Trails
The Bike Pirate does a great job of describing our local Nelson trails. Located right above the city limits, literally a short (uphill) bike ride from our downtown, the Svoboda trail system comprises intermediate to advanced trails that are moderate to difficult to ride. As the Bike Pirate puts it, you're going to want a full face helmet, knee and elbow pads for these trails...and you are going to earn your turns. There is not access for shuttling here, so you're going to do some switchbacks before your descent. Be ready for it. On the other side, these trails are well-maintained and end up at Nelson's Lakeside Park, which will be waiting for you to go for a dunk and then grab a bite to eat at the Rose Garden Cafe. The Bike Pirate gives this trail system "4-Skulls" which means "highly recommend this ride; we enjoyed it heaps and would come back." Not bad.
Nelson Fat Tire Festival Criterium
Weekly bike rides that start at Sacred Ride and Gerick Cycle and Ski will get you out enjoying and familiarizing yourself with over 120 rides in the area. And the Nelson Fat Tire Festival in August is fun for the entire family!
Mountain Biking in Kaslo
The Kaslo Chamber of Commerce offers a great introduction to some of the trails around Kaslo. They range from easy to very challenging, and consist of rides that are relatively short (11 km) to those which are over 50 km long. Kaslo offers rides for every level of mountain biker, with trails ranging from cross country to downhill. We would love for you to give Kaslo some of your mountain biking time while you're visiting this season. The Wagon Wheel trail, for example, used to be the supply road from Kaslo to Sandon, and is a 20 km one way trip that is considered easy. On the other hand, Silver Cup, accessed at the south end of Trout Lake, 90 km north of Kaslo, is a very challenging 20 km ride in the alpine. The end of August brings Suffer Fest to the mountains and streets of Kaslo. Bring the family or a group of friends and come do some hard core riding.
Take Some Time To Enjoy Mountain Biking
While you are visiting us this spring and summer the views alone should be enough, but the trails are epic, and your fellow mountain bikers will inspire you. If you have a chance, take a few minutes to also check out the volunteer built and maintained Bike Park, located in Rosemont, right beside our new Skateboard Park! ***
This blog is a repost from our sister blog, 108 Healthy Things to Do