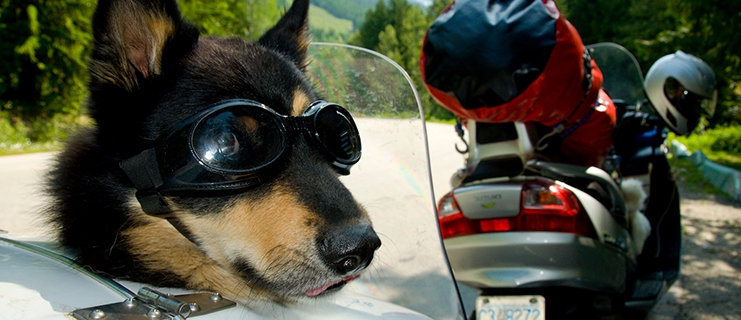 You are here
Motorcycling Paradise
By John Bowden
Kootenay Lake is a well-deserved motorcycle mecca. With scenic views, quiet winding roads, and some of the most charming towns and communities, it's little wonder that bikers make the pilgrimage to this little slice of paradise.
Over a hundred motorcyclists congregated in Nelson for the 15th Annual Kootenay Rat Raid, a weekend festival for Triumph riders, typically hosted at the Adventure Hotel. Held on the same July weekend every year, the popular event attracts participants from all over Western Canada and the United States.
"It's an event by Triumph riders for Triumph riders" said organizer Liane Langlois. "It's beautiful here, there's a relaxing atmosphere, great weather and spectacular roads. And we're treated really well here."
The parking lot at the Adventure Hotel was packed with sleek machines and guests enjoying the private outdoor patio (when not out cruising the roads). In between banquets, prizes, and "show & shines", bikers took to the local roads.
A popular route is the "Silver Triangle", starting in Nelson and continuing on to Kaslo, New Denver, and through the Slocan Valley back to Nelson. At just over 220kms, it's a good half-day ride (plus no shortage of photo opportunities).
Other riders took advantage of the world's longest free ferry, with a loop that starts in Nelson and climbs up over the Kootenay Pass before descending into Creston. From there, the road veers north along the eastern shores of Kootenay Lake to Crawford Bay, and then the 35 minute ferry over to Balfour, followed by a short scenic ride back to Nelson.
For those with a passport, other routes south of the border also tempt riders with longer options, including destinations such as Kettle Falls, Sandpoint and Spokane.
Ducati fans also got in on the action earlier this summer with their very own DUCwc Mountain Rally based in Nelson. The Adventure Hotel laid out the red carpet for participants, and welcomed them to the Uptown Sportsbar on site.
It's also common to see folks on their own self-organized tours spending a few nights on Kootenay Lake. Most motorcyclists tend to stay in Kaslo or Nelson, but there are also some great lodging options throughout the region.
The Kaslo Hotel is always a popular spot and is ideally suited for those looking to explore the north end of Kootenay Lake. Check out the Nelson & Kootenay Lake Tourism accommodation links for more options too.
With memorable lodging, delicious restaurants, fantastic weather and famous Kootenay Lake scenery, you'd be hard pressed to find a more magical motorcycling destination in North America. Find out more at about motorcycling in the Kootenay Lake region here. #findingawesome | www.findingawesome.ca