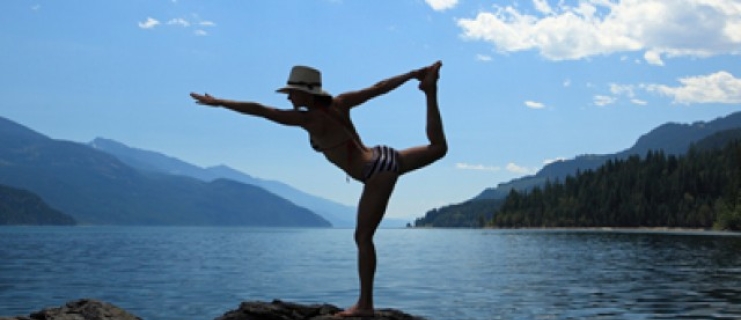 You are here
Kootenay Spirit Festival is on Its Way!
The count down is on for the first ever Kootenay Spirit Festival! Just over 7 weeks until we gather. There are only a few days left (until August 1, 2014) to purchase early bird tickets (buy them ASAP!), and excitement is starting to build! Festivals are in full swing, and we are all so happy that Kootenay Spirit Festival carries us into the glorious fall, September 12-14.
As the organizers gather down at Lakeside Park for our meetings, starting off with some yoga and meditative movements before delving into our brains, we can already feel the energy rising as we mentally prepare and decorate the beautiful, lush grass for the coming together of the yogis for the Yoga Jam. Our banner has taken a life of its own, and soon will become as well traveled as many a yogi! From Tiny Lights Festival to the Vancouver Jazz Festival, it took a rest hanging on the balcony of the Nelson Visitor Centre. It will now be relaxing, meditating, doing yoga and rejuvenated at Mountain Water Spa and Wellness, before it may have to gear up for the Disk Break! The lucky banner will get to enjoy the grooving toons at the Kaslo Jazz Etc Festival in order to prepare to share the love at Shambhala Music Festival. With a stroke of brilliance, it will continue its journey with the Moving Centre and on. It can't wait to see you at the festival!
Each week I have dedicated myself to learning about one of the artists that are coming, and am starting to wish I could be in five different places at once so I can see and do it all! Simply being a part of this amazing growth process with this shining star of an event in the future lifts my spirits and brings smiles to my day. Join me in raising your spirits by entering our Facebook Photo Competition, and you can win a free weekend pass to the Festival and an Ainsworth Hot Springs pass!
For more information visit our website, like us on Facebook #kootspirit, or shoot us an email (info@kootenayspiritfestival.ca), and be sure to share the love. We look forward to seeing you and thanks for reading this blog - more to come! PS: Special thanks to our many amazing Kooteany Spirit Festival Sponsors! Unite Sponsors: Mountain Waters Spa & Wellness, Nelson Kootenay Lake Tourism, EZ Rock, Kootenay Rockies Tourism Create Sponsors: Black Press, Nelson Commons, NDCU Credit Union
Inspire & Ignite Sponsors: Adventure Hotel, Academy of Classical Oriental Sciences, Bambu Hot Yoga, Community Chiropractic – Dr. Kevin McKenzie, DC, Gaia Rising, Gaiatri Yoga & Beyond, Hall Printing, Hume Hotel, Kootenay Co-op, Kootenay Co-op Radio, Natural Choice Pharmacy, Naturalife Ayurveda, Oso Negro Coffee, Sacred Journey, Sat Kaur Yoga, School of Sacred Arts, Selkirk College, Shambhala Meditation Centre, Shanti Yoga Studio, Expressions Cafe, Wild Woods Yoga and Wellness, William McNally Law Corporation, Yasodhara Ashram – Yoga Retreat and Study Centre