You are here
Kaslo Gets Angry
Angry Hen Brewing Company Coming Soon to Kaslo BC
Get ready to add this new Kaslo gem to your list of hot spots to cool down and quench your thirst. Angry Hen Brewing Company is working hard to open its doors this August, and will display a selection of twelve drafts made in-house by seasoned Brew Master, Shirley Warne.
Warne comes to Kaslo bringing with her thirty years of brewing experience. Having cultivated her craft from coast to coast by beginning her career in Toronto and traversing from Vancouver to Halifax, Warne has chosen to settle in the Kootenay mountain town of Kaslo. After consulting in larger commercial breweries in Vancouver, Warne looks forward to utilizing the relaxed, creative flexibility that small brew houses foster. A prime environment for "experimenting", as Warne puts it.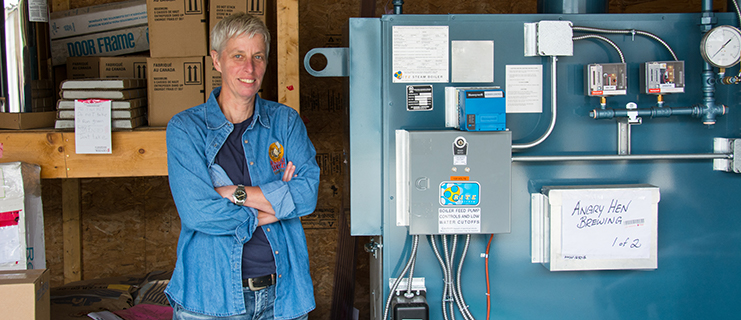 Located in Kaslo's relaxed downtown, Angry Hen Brewing is the perfect place to enjoy an artisan brew while soaking in the striking Purcell and Selkirk mountain range. This newly renovated space will feature a brewery lounge and outdoor patio styled with a "Kootenay Chic" aesthetic. The production area will also be open for tours and will feature a made-in-BC 7 barrel brewhouse, fermenters and conditioning tanks. Even the steam boiler is showy, painted a cerulean blue, and freckled with gauges and wrapped in pipes: "kinda steampunk" says co-owner Manon Gagnon.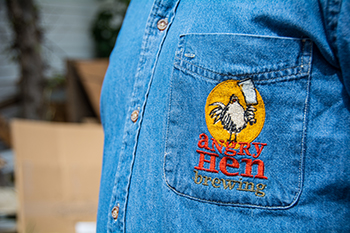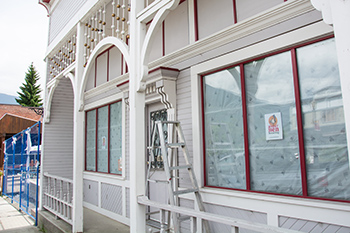 When asked what makes Angry Hen different from other breweries in the Kootenay area, co-owner Andy LeCouffe replied, "I don't know. Craft beer making is a fraternity. We all try to make great beer." A statement the Angry Hen team is set to deliver on as the brewery has been a project fueled by passion and dedication to the craft of brewing. This approach will definitely emanate from the warm, communal atmosphere of the lounge and the stunning quality of the beer.
Whether you're a beer connoisseur or just enjoy a pint with friends, the Nelson and Kootenay Lake region will not disappoint. The region boasts a number of unique brew houses that will be sure to quench a thirst of any kind; such as the Nelson Brewing Company, Torchlight Brewing, Savoy Brewing Company, and Backroads Brewing Company. So be sure to make the Kootenay Lake region your next stop for quailty beer with a beautiful view.