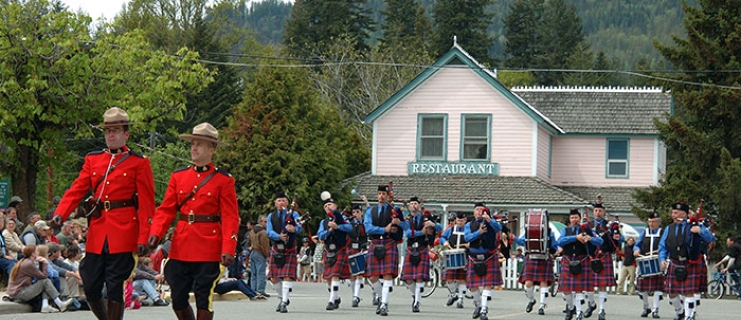 You are here
Historic Kaslo May Days — A Celebration of Youth
Welcome Summer Sunshine This Weekend in Kaslo!
The annual May Days celebration in Kaslo, British Columbia started in 1892, so it's coming up to 125 years in 2017. May Days tradition highlights the diverse culture of Kaslo and the entire Nelson Kootenay Lake region. It's become one of the momentus events that welcomes the summer season here. Whether you are a vintage car enthusiast, skate boarder, logging sports lover or simply enjoy the sunshine, there are good friends and excellent food. Events take place May long weekend every year.
Logging Sports
The May Days celebrations include some year after year traditions including the logging sports competitions, which bring loggers from the United States and across Canada to vie for prizes. The competition is volunteer run, and this year will take place on Saturday and Sunday from 11:30 to 4:00.
Competitions include:
Tree Climbing
Log Rolling
Axe Throwing
Springboard Chopping
This is truly one of the main events during the May Days celebration. If you have ever wondered what logging sports were all about, you might want to make the time to attend at least one of the days. For more information on logging sports, check out this page on the UBC forestry undergraduate society's website.
Show and Shine
This will be the eighteenth annual Show and Shine in Kaslo. The inaugural event saw 15 cars line the historic downtown. This year, expect to be wowed by cars from the 1930s all the way to some rare vintage Mustangs from the 1960s and 70s. The show is on Sunday, from 10:00 to 3:00, with cars lining the historic downtown all day long. If you are unfamiliar with Kaslo, one of the many features of this village are its roads, which, with their well maintained curves and incredible views of both mountains and lake a joy to drive. For a great description of why Kaslo is truly the place to be for vintage car lovers, check out our post over on 108 Healthy Things to Do for a conversation with Cliff Blakely, one of the organizers of the Classic British Car Show.
May Days Full Schedule Includes:
Other events on the weekend schedule include:
May Days Parade
Softball Tournament
Garden Fest
Bird Watching
River Trail Walk
Horse Demonstration
Kids' Fun Races
Pancake Breakfast
Skate Park Demonstration
Helicopter Tours
The Story of Kaslo
As the oldest incorporated village in the Kootenays, Kaslo began not as a mining town, but as a logging town. In 1893, Kaslo was incorporated, and by 1897, it had telephone and electrical service, a brewery, a cigar factory, as well as many hotels and bars. The silver mining boom came to Kaslo, but when that went bust, Kaslo went silent for a period of time, reinventing itself in agriculture in the twentieth century.
Kaslo was one of many Kootneay areas designated for the relocation and internment of Japanese Canadians during World War II. The Langham Cultural Centre commemorates this deeply sad and unfortunate era in Kootenay history, and the Joy Kogawa book, Obasan, tells the story of one family's internment in the area.
Now, Kaslo relies on both logging and tourism to support its population of just over 1,000 people. It is often called the "Little Switzerland" of the Nelson Kootenay Lake region because of its charming picturesque village right on the west arm of Kootenay Lake, surrounded by mountains.