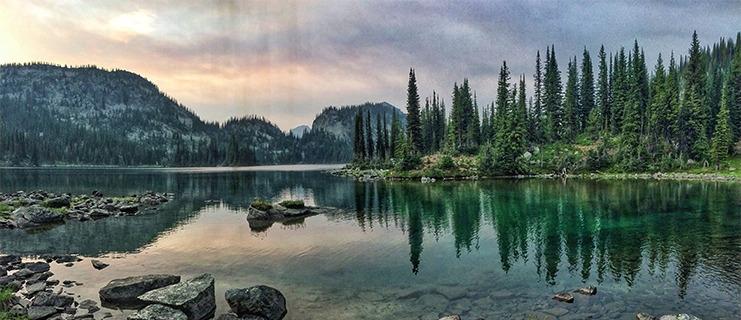 You are here
The Hiker's Guide to the West Kootenays
By John Bowden | Cover Photo Abby Wilson (@kooteneer)
From mild to wild, the hiking options in the Nelson and Kootenay Lake area are almost limitless. Trying to figure out just where to go is often the biggest hurdle.
You can find an overview of more than 30 trails on our hiking page, with links to West Kootenay Hiking for detailed reviews.
With so many great trails to choose from, it's worth extending your stay in the Kootenay Lake region. Nelson, Kaslo and the communities around the lake make for ideal bases from which to explore your desired trail(s). Late summer and early fall is also prime hiking time, with cooler temperatures ideal for more comfortable ascents and leafy trees beginning to put on a colourful autumn show. If you're wondering about access, you can find lots of information on the West Kootenay Hiking resource page.
Family friendly hikes, including the Kaslo River Trail, Retallack Old Growth Cedars, and the Great Northern Rail Trail in Nelson offer short and gentle walks that are easily accessible from paved roads. The recently upgraded road to Kokanee Glacier Provincial Park makes it easier than ever to explore the Old Growth Cedars or scenic Gibson Lake.
Keen for a more ambitious day hike? Try Toad Mountain near Nelson, with awesome 360 summit views, the legendary Kokanee Lake Trail (with longer options too), or Lyle Lakes/Mount Brennan near Kaslo. These five star hikes will get your legs pumping and working up an appetite for one of the area's highly rated restaurants.
For those seeking more solitude in the backcountry, and not afraid of some bumpy forestry roads, head to Monica Meadows, Macbeth Icefield and Jumbo Pass at the north end of Kootenay Lake. Jaw-dropping views are the reward for these iconic and challenging hikes.
Local outdoor shops have everything you need to make the most of your time in the alpine, including trail maps, backpacks, hiking boots, and the latest camping essentials.
West Kootenay Hiking
Nelsonite Abby Wilson has put together a top-notch hiking website featuring West Kootenay trail reviews, photos, stats, maps and loads of helpful advice. West Kootenay Hiking is her creation and is quickly becoming a go-to guide for locals and visitors.
Abby's site is sleek, easy to navigate and chock full of great resources. That's no small feat considering she's been volunteering her time to get it up and running. But she's not alone in her content research. Abby is encouraging fellow hikers to submit trail updates and make the site more robust. User generated content promises to keep the site up to date with the latest trail reports and need to know info. In appreciation of Abby's efforts to build a local hiking resource, Nelson and Kootenay Lake Tourism is proudly making a donation to a non-profit of her choice, Nelson Search and Rescue.
One of the first things you'll notice on the site is the photography. The images are captivating and a testament to Abby's artistic flair. Her hikes and photos are the inspiration behind her colourful paintings that evoke the whimsical and spiritual works of legendary Canadian artist Lawren Harris. You can find her collection (with some items for sale) at www.abbywilson.ca.
Explore the region, and beyond. #findingawesome