You are here
Fitting Inn
By John Bowden | Cover Photo Dancing Bear Inn patio
If you think motels and inns are just overnight rest stops for weary travellers, think again. In the Nelson and Kootenay Lake region there's a wide range of charming options that will tempt you to extend your stay.
Cooking facilities can be found in many local inns, giving you the freedom to balance home-cooked meals with the delicious fare found in over 75 restaurants in the region. Plus, the affordability of an inn means you've got a little more left over for that prized shopping find or outdoor activity you've been dreaming about.
The Dancing Bear Inn in Nelson is a comfortable, stylish and social option for backpackers and free spirits. Located at a quiet end of Baker Street, the hostel has a cozy common area and décor that feels an awful lot like an elegant backcountry lodge. Private and shared rooms give you the option of your own space or mingling with fellow travellers.
At the other end of Baker Street is the popular Mountain Hound Inn. Modern, comfortable rooms start at just $84 per night and have all the conveniences you'd expect to find in a larger hotel. With free wifi, A/C, HDTV's, and private washrooms, it's a mighty good bang for your buck. Plus, you're in the heart of downtown Nelson and tons of amazing eateries.
Clean, cozy, and with a charming French country-style flair, the Prestige Inn Nelson is a great choice too. Located on the edge of Lakeside Park, it's a fantastic location for outdoor enthusiasts. Bonus: you'll get access to all the amenities at the larger Prestige Lakeside Resort, including indoor pool and hot tub, spa, fitness centre and great restaurants.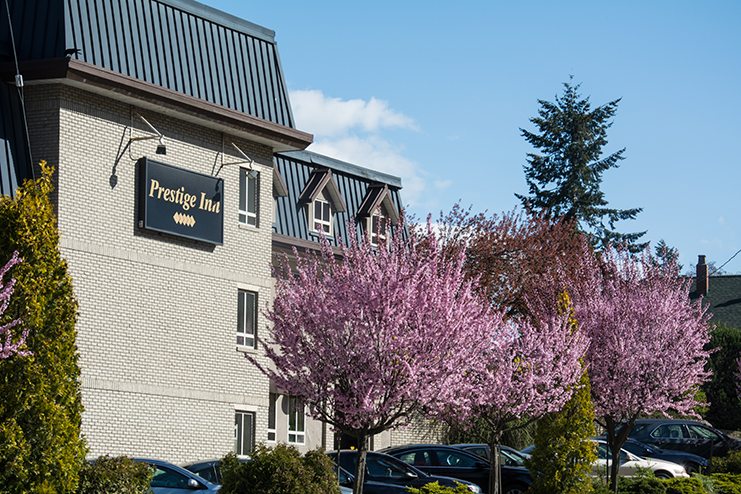 Just across the bridge is a pair of quiet inns. With private balconies, the North Shore Inn has some of the best views in town overlooking Kootenay Lake. Spacious suites including fridges, A/C, and free wifi make for a great home base to explore the region.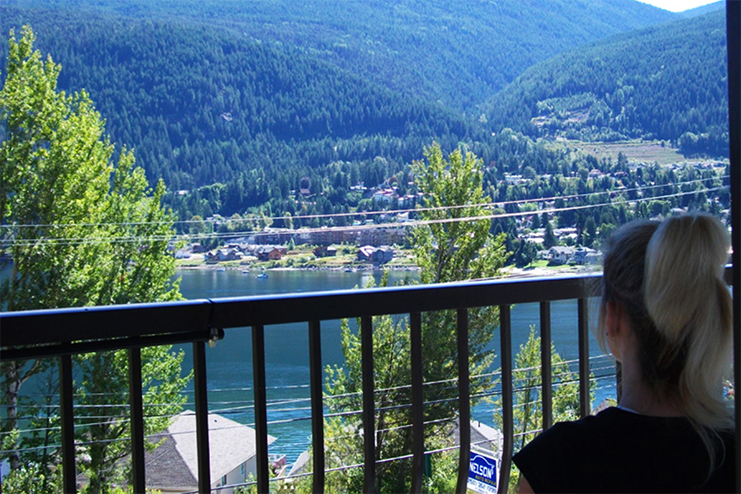 Next-door is the Villa Motel, com plete with an on-site restaurant, indoor salt swimming pool and hot tub, and complimentary continental breakfast. It's a short scenic walk over the bridge and to the beach at Lakeside Park, or a 3 minute drive to Pulpit Rock, Nelson's local hiking trail.
Kokanee Glacier Resort is another great option, overlooking Kootenay Lake and a short drive to Nelson. Suites include a full kitchen, living room, and access to the lush landscaped property with wonderful views.
Further east on Kootenay Lake is Cedars Lakeshore Inn & Marina near Balfour. This home away from home features four fully equipped kitchenettes. Open year-round, it's an ideal spot for water and golfing enthusiasts. Set your clock to "relax" and enjoy the quiet comfort of the area.
If you're looking for somewhere even quieter, consider a stay at the quaint Ainsworth Motel. Overlooking Kootenay Lake, the affordable inn features kitchen units, front decks, BBQ access and picnic tables for the perfect summer getaway. Plus, it's only a two-minute walk to the famous natural hot pools.
The charming town of Kaslo offers a variety of lodging options, including the family friendly Kaslo Motel. Located between the historic Main Street and the stunning Kaslo River trail, the motel features a mix of cabins and motel rooms. Most rooms feature A/C and some are also pet friendly.
Whether you're looking for budget-friendly or just good old-fashioned friendly hospitality, you'll find the perfect fit in the Nelson and Kootenay Lake region. Our digital map can help you see what's where all along the lake, and our calendar lists all their is to do. So much to discover - findingawesome.ca | #findingawesome