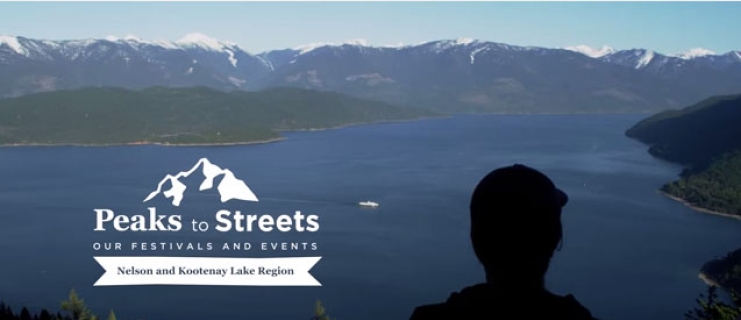 You are here
Festival Season in Nelson and Kootenay Lake
From Peaks to Streets — You Can Dance All Day In The Area
It was the comments that really got to me. Telling the story behind the story of all the great festivals we have in Nelson, Balfour, Kaslo and Meadow Creek - all along Kootenay Lake. The dancing, the music, the kids and their bubbles. Sure, that's part of it. The sun, the snow, the sand and water and blue, blue sky all play a role. But the comments, to me, told the rest:
"The magic is in how wonderfully quirky the area is. Not like any other place," said Tom Hudock. Mary Wilson wrote, with hearts and smiling faces and a big thumbs up, "Wow! It's amazing — our shimmy mob dance last year..." and a friend chimes in, "I see you in there, Mary!"
"Such a great place! I love the area." and "Wonderful place to live and visit! We are so lucky here in the Kootenays!,"
We're Happy to Be Dancing This Summer
Sure, lots of places have a kind of community pride. But Nelson and the Kootenay Lake area just take it a step beyond: happy to be quirky, happy to be dancing in the streets. Happy. And when we get really happy, we seem to get together to create a festival to share our happiness with the world.
More Chances to Love Nelson Kootenay Lake
Each year it seems that more festivals are added to our roster, more chances to tap your feet to the local beats, more chances to don a silly mask and blow bubbles from a bubble wand. More chances to eat together, smile together, have fun together. Watch indie theatre on a stage, listen to stories, meet famous authors or learn about poetry together. More chances to hear jazz performed on a floating stage in Kaslo. More chances to love Nelson Kootenay Lake.
Celebrate Sports, Local Markets and Community
May long weekend brings a celebration of logging sports to Kaslo, all summer long the Kootenay Eco Society brings markets twice a week to Nelson. Tiny Lights festival in Ymir and the Elephant Mountain Literary Festival allow us to hear local poetry while we look around and notice that a fair number of people we know love art and music and good, local food and drink.
Winter allows us to gather around bon fires and warm ourselves while admiring the ice sculptures at Whitewater. Summer brings sand sculptures and bands playing at Lakeside and fireworks. And this year, it also brings a wonderful celebration of paddling along the entire length of Kootenay Lake, from Meadow Creek to Lakeside Park in Nelson.
Come along with us and celebrate all year long.