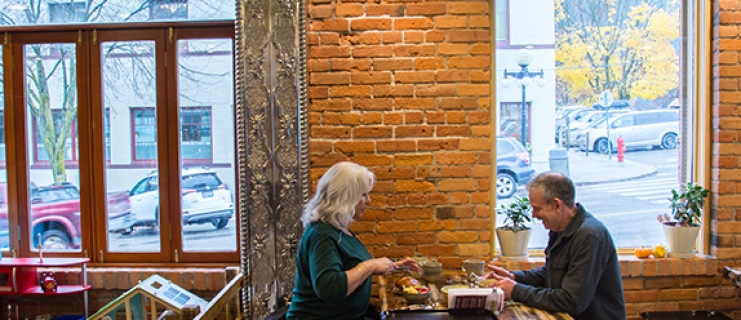 You are here
From Farm to Table
Shambhala Music Festival Team Launches New Café
By John Bowden
Canada's café capital has a new player.
Farm Fresh Café, an extension of the up and coming Savoy Hotel in Nelson BC, opened its doors in late October. The team behind the world-renowned Shambhala Music Festival has scored another triumph in their newest offering.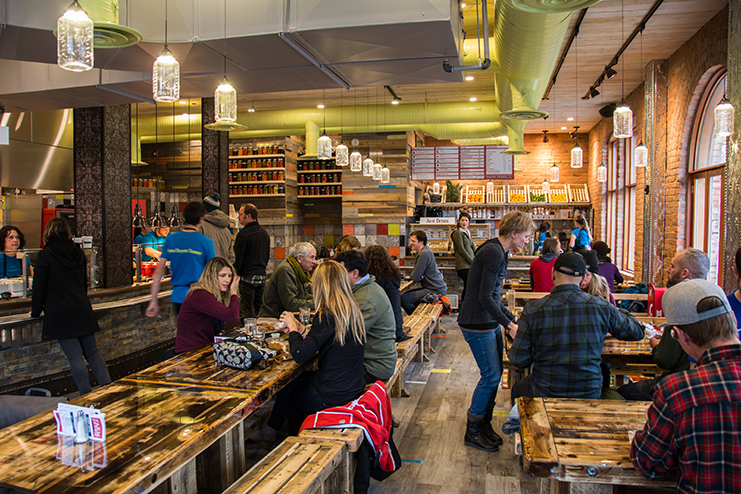 Bringing the freshness of the farm to the table, the café reflects an emphasis on local influence and sustainability in both the food and design.
If it seems to resemble a modern farm, it's on purpose. "There are elements of a farm throughout the café, including the posts, ceiling, floor, and wood interior," said head chef Grant de Montreuil. "It's a handmade approach built by our in-house contractors".
De Montreuil has been involved in the BC food scene for decades, helping to create a movement for local agriculture and wine. He's taking that approach to a new level with Farm Fresh Café.

"We like to joke that we cultivate more than one type of beat there (Salmo River Ranch, site of Shambhala Music Festival)"

Grant de Montreuil, Farm Fresh Café

"We have a five acre farm at Salmo River Ranch where Shambhala is held. This year we harvested more than 20,000 pounds of tomatoes and raised our own pork."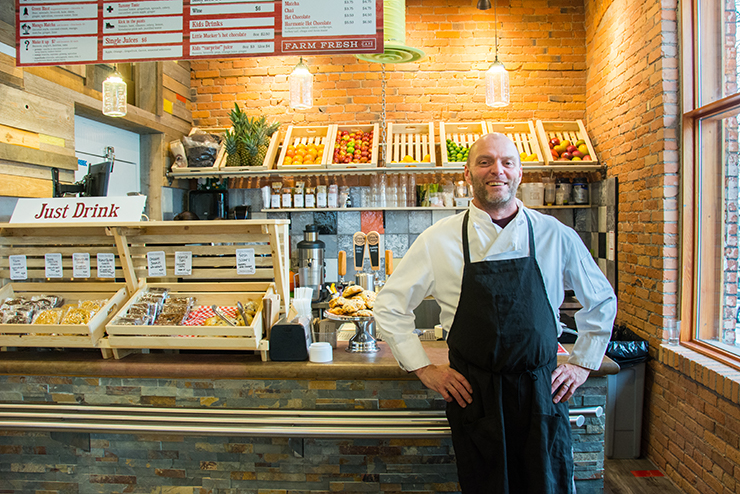 Wait a minute – Shambala is held on a farm? "We like to joke that we cultivate more than one type of beat there" laughed de Montreuil.
Much of the food at the Café is grown at the Ranch. The rest is sourced from local producers. "Our long-term goal is to be as self-sufficient as possible. We'd like to have our own butchery and have plans for orchards, nut trees and our own hops for the brewery."
Nelson is widely considered to have the highest amount of restaurants per capita in Canada. So is there room for another one?
"We had some initial concerns about saturation, but everyone in town seems to be doing ok. There's a very vibrant food scene here. We're just trying to take it one step further," noted de Montreuil.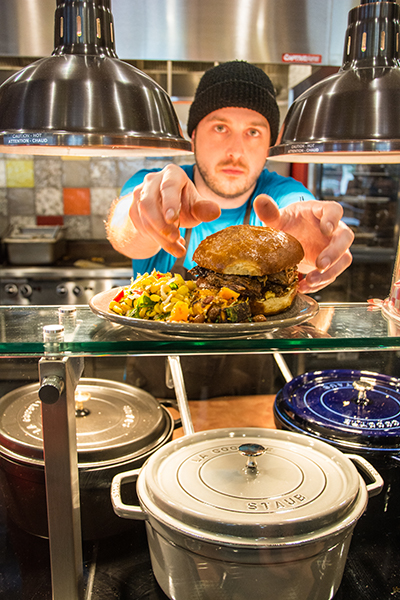 The "friendly rivalry" amongst local businesses forces everyone to keep pushing the envelope. The result is a gastronomical feast for foodies. It's no coincidence that the dozens of restaurants in Nelson and the Kootenay Lake region are consistently rated above 4 stars on TripAdvisor.
Expect to see Farm Fresh Café shooting up the ranks as more locals and visitors discover Nelson's newest eatery. Designed as an upscale self-serve cafeteria, guests can easily and quickly curate their own meal. With half a dozen daily salads and upwards of eight different mains, the combinations are as diverse as the flavours.
Add in locally roasted coffee, healthy smoothies, fresh kombucha, and craft beer from the hotel's namesake brewery, and there's a beverage to suit every taste. Meals are also available to go, and fresh produce is available in the summer.
Farm Fresh Café is bursting with fresh flavours and local energy. Thanks to the efforts of de Montreuil and the Savoy team, the farm to table movement is alive and well in this little slice of foodie paradise.