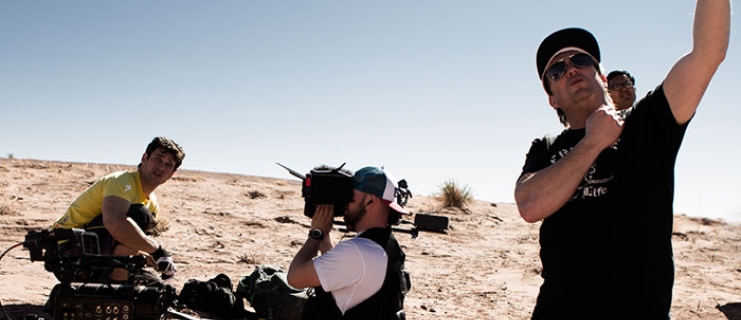 You are here
Nelson Kootenay Lake region -- Where You Want to Be

Derek Westerlund moved to Nelson in 1992 — which means that he lived here during the time that our backyard became the playground for some of North America's top athletes. Mountain biking in the summer, skiing and boarding in the winter, the action sports mecca that grew up around Baldface, Retallack, Whitewater Ski Resort and other hidden jewels of the Selkirk/Purcell mountain ranges fostered an ideal incubator for upcoming filmmakers.
Derek Westerlund began filming action sports as a teenager and never stopped, only improving and refining his abilities, helping to found Red Bull Rampage in 2001. From there, Freeride Entertainment has become an award winning production company, filming in over 40 countries, working with top brands and agencies. All in Nelson, BC.
The Selkirk and Purcell mountain ranges that surround Kootenay Lake are full of surprises. Our area sports the highest concentration of hand built mountain bike trails in British Columbia, over 40 feet of powder a year, and is the birthplace of Cat Skiing, making it the Cat Ski Capital of the world. This combination creates an unmistakable feeling that you really are in the centre of the universe when you are here, a feeling I believe Derek shares.
"This is my sanctuary; where I want to raise my kids; the environment I want to live in," he says, speaking of the conscious choice to continue to produce feats of digital magic, specializing in high end film production at the forefront of technology here, in Nelson.
Though Freeride Entertainment has a satellite office in Seattle, its world headquarters are here off Baker Street in downtown Nelson. Keeping, as Derek says, "the DNA in Nelson," is important and possible because of the talent here.
Keeping a production company that films in extreme conditions all around the world in Nelson means traveling is a part of the equation. Recently, Derek was running a 60 person production team with Freeride Entertainment in the desert in Utah. They were filming the 10th annual Red Bull Rampage, which was attended by 2000 people and seen by millions. Forty-eight hours later, he was in front of hundreds of people as a keynote speaker at Marketing Magazines, Digital Religion in Toronto, telling a group of marketing industry executives and other professionals how lifestyle marketing is done. Extreme, indeed.
No matter where you go in the action sports world, however, Nelson never seems far away. Case in point: At this year's Red Bull Rampage, local Kurt Sorge won, making this his second win in ten years. For Derek Westerlund, filming a fellow Nelsonite's winning run is all part of a solid day's work. Action is part of our DNA as it were.
Freeride Entertainment's latest project, "The Unrideables" takes him from big wave surfing (they've got a crew in Hawaii right now) to speedriding in Alaska. As part of the project, Derek has said, "Every day someone on this planet does the impossible." True.
And filming the impossible seems to be all part of a day's work for the crew at Freeride Entertainment. From its roots filming locally to the latest iterations filming in Alaska, Hawaii, and all around the world, this 17-year-old production company is sending the Nelson lifestyle message out into the world and keeping the vibe high as they do it.
Images provided by Freeride Entertainment photographer Bryan Ralph