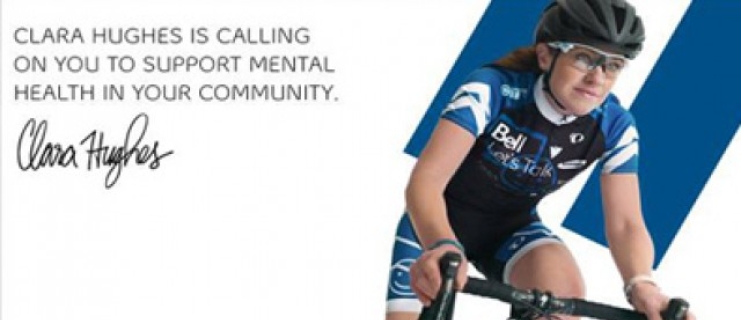 You are here
Clara Hughes Says: Let's Talk Nelson!
Clara's Big Ride Brings Awareness to Mental Health in Nelson Kootenay Lake
On May 24th, Clara Hughes brings Clara's Big Ride to Nelson to help shed light on a topic many still in 2014 don't speak openly about: Mental Health. Whereas it is pretty common to let someone know you've had a bad cold, when was the last time you felt okay letting friends (or acquaintances) know you've been a little blue? It's still pretty rare to feel okay sharing the fact that we're feeling less than "fine". (As in How are you? Fine.) And yet, the facts are there. All of us are touched by mental illness. Twenty percent will have a mental illness, 8% will face major depression, and yet half of those who say they have suffered from depression have not sought help from a doctor. Canada's youth suicide rate is the third highest in the industrialized world, making Clara's emphasis in getting youth involved all the more prescient. Only between 20% and 25% of youth who need mental health services receives them. Clara Hughes suffered from severe depression for years, and it was a meeting with a doctor at the London Olympic Games that began to change things for her. This doctor was able to let Hughes know that the symptoms she had were caused by depression, and that there was a way out.
With so few people affected by mental illness receiving the help they need, Hughes feels that "Canada has to do better - it just does, because there are so many hard-working nurses and doctors who want to help, but their hands are tied because there just isn't enough money." The community of Nelson supports awareness of mental health, and on May 5 there was a gathering of notable speakers who shared their roles and perspectives on mental health in Nelson. Clara's message is strong and to the point. Seek help. Your family and friends are going to tell you what you want to hear, but you need to seek help from "someone clinically trained, not someone emotionally connected." But, and she is a testament to this, recovery is possible. "Recovery is work, and it's about setting boundaries and listening to our bodies," but it is possible.
Clara Hughes in Nelson May 24th
Clara Hughes is bringing her message to Nelson on May 24th through a series of events in town.
4:00 - 6:00 pm Welcome and Speech by Clara Hughes — Gather at the end of Hall and Baker by Gerick Cycle and Ski. There will be information booths, Samba band, face painting and Bubbles the Clown. OR gather with your bike in front of the Best Western Inn and ride in the parade. Confirm your parade spot with Kim Palfenier at nrsc@telus.net.
7:00 pm - Let's Talk Nelson at the Prestige Hotel. This event is $25 and all funds will go to the newly created Osprey Foundation Fund for Mental Wellness. tickets can be purchased at Gerick Cycle and Ski.
Heaps of businesses are onboard supporting mental health in our community! Nelson's Blue Bike, signifying mental health awareness, donated by Gerick Cycle and Ski, will be around town. Get your photo taken with the bike and start talking Nelson! Stay informed and keep the conversation going at Facebook at TheKoopKootenays or NelsonKootenayLake. Hope to see you there! ***
This blog is a repost from our sister blog, 108 Healthy Things to Do