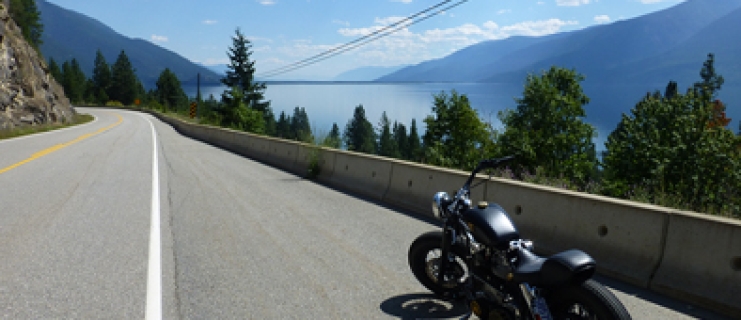 You are here
Born to Ride Nelson Kootenay Lake
It's about the Journey, Not the Destination
Motorcycling Nelson Kootenay Lake
Now that spring has officially arrived in the Nelson Kootenay Lake area, you might want to consider motorcycle riding and rental for your next outing. Instead of being inside the bubble of a car, "touring on a motorcycle is awesome, because you are out in the world. You smell the flowers as you ride by," says Lou Ewert of Kootenay Motorcycle Rentals. Spring is a great time to go touring on a motorcycle around here, "with everything coming to life. You feel the wind and the sun on your face; it's exhilarating. You're leaning in to every corner as you ride along on Highway 3, hugging the lake, noticing everything as you ride through this beautiful area. In fact, the Nelson Kootenay Lake region has some of the best motorcycling roads in British Columbia. The ride along the east shore of Kootenay Lake on Highway 3A is rated the best motorcycling road in British Columbia by Destination Highways. The traffic is lighter than other areas in British Columbia and, notes Lou, "we've got fun winding roads with beautiful scenery. What's not to love?" There is even a motorcycle campground and cabins along Kootenay Lake near Balfour at Toad Rock Motorcycle Campground. Drive 15 minutes further up the lake to Kaslo and enjoy an evening or two at the newly renovated Kaslo Hotel or cozy rooms at the Kaslo Motel. When you are considering where to go and where to stay for your motorcycle tour, you've got tons of choices in this area. The roads are well maintained, traffic is fairly light and from spring through to fall, the weather is great for riding. Early spring and fall can be a bit chilly, and the best months are probably June through September. For a great selection of rides to go on in the area, see the Kootenay Motorcycle Rentals web site under the roads and riding section.
Motorcycle Rental Day Loops and Camping, Too
Says Lou, "There are several amazing day ride loops from Nelson back to Nelson and many opportunities for longer rides as well." Motorcycle camping is another option, though, as Lou says, "you have to be prepared to scale down a whole lot if you are used to car camping." But there is another option, if you have a friend who would rather drive a car (though, I have to admit, after looking into the motorcycle rental option, I'm not sure how anyone could choose a car!). If you can find a friend to drive a car, that person can carry all your stuff -- Hmmm...not sure what kind of friend that would be...
Motorcycle Rental Details
Of course, that car-driving, gear-carrying person may just be the one without a motorcycle license. To rent a motorcycle, you do need a motorcycle license, protective gear and also the "riding skill and experience to handle the bike you choose." Kootenay Motorcycle Rentals provides helmets, but you're encouraged to bring your own if you have one. For more details, including rates and age requirements, take a look at their website.
Motorcycle Touring: Great Group Activity
If you're looking for some fun this late spring or summer, consider taking a motorcycle out for a spin with some friends. It's "a great group activity; people all over the world get together to ride." True enough. Though you've got to be a bit careful and pay attention to riding safely in a group, it can be "super fun to ride with friends" And, of course, your friends who can't ride motorcycles, can come along in cars and meet you at the destination...carrying your stuff, of course. As Lou says, "often when touring in a car the trip is all about getting to the destination, when on a bike the trip is all about the trip! You enjoy the whole ride as you go along and then get to enjoy the destination upon arrival. It's all about being in the moment." Motorcycle touring sounds like an excellent adventure for the coming months! Join us for some fun touring the Nelson and Kootenay Lake area on a motorcycle. ***
This blog is a repost from our sister blog, 108 Healthy Things to Do