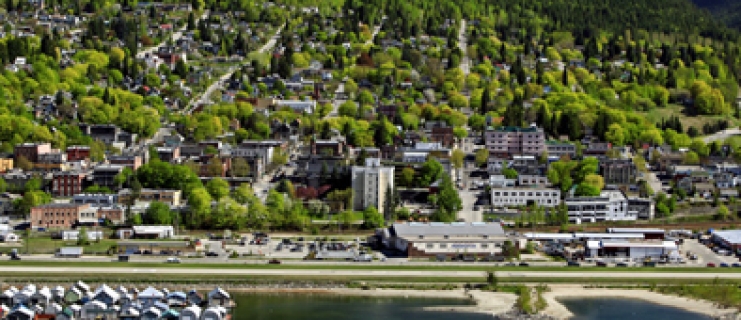 You are here
Baker Street Downtown Nelson in Spring
Snow Has Melted & the Sun is Shining
At this time of year, people around the Kootenays seem to come out of hibernation. Though we've been active all winter long on the ski hill, xc skiing or in the backcountry snowshoeing, when we feel the sun on our faces and can see the crocuses have bloomed (with the irises and strawberries not far behind) we seem to wake up. Perhaps, if you live in a similarly four-season climate, you've felt this too. It's time to get outside.
In Nelson at this time of year, Baker Street downtown is packed with pedestrians, as people ditch their cars almost in an effort to get every possible drop of sun. There is a tangible feeling of real joy in the air as people walk along Baker Street going about their day. Whether it be simply running errands, having lunch with friends on a newly opened patio or walking to work, as a visitor, you may well be surprised at the number of people you see on the streets in the middle of the day.
Baker Street Downtown: Historic and Well Planned
Nelson has not gone so far as to create a pedestrian-only area in its downtown. However, the city has done several smart things to help visitors and residents alike enjoy walking on Baker Street downtown. Parking is easy to find and inexpensive, which means that you can leave your car and walk in the downtown area easily. Most of our hotels are located right downtown, so when you visit, you are able to truly leave your car behind and walk to your morning coffee, visit the local shops (Such as Sanderella's, where you can not only have your tea or coffee, but also browse locally made crafts.) and experience a little bit of what people rave about in Nelson. You're going to slow down. There's a bit of magic that happens while simply walking down Baker Street on a sunny day. Perhaps you woke from your hotel, and full of practical ideas, decided to grab a coffee so you could simply wake up and better plan you day. You may even feel a bit grumpy. The first time someone waits patiently to turn right while you cross the street, or holds the door open for you as you enter a shop, you may think you were just lucky. Or perhaps something slightly irritating happens: A group of friends stop right in front of you on the sidewalk as you are hurrying back to your hotel. You look up, ready to tell them to keep moving, when you notice their smiles, hear their laughter, and realize they are not affected in the least by your irritation. You don't need to go to some remote island paradise to experience this kind of almost old-world kindness and slower pace of life. It's here.
Local Shops Worth Visiting
Once you have had your morning coffee, you may feel a bit more ready to take on a couple hours shopping and browsing on Baker Street. You'll most likely be spending at least a part of your vacation here outdoors, either hiking or on the water...or both. Village Ski Hut and Valhalla Pure Outfitters are stops you'll want to make. Whether you buy something for your later adventures or simply get some incredible ideas for what is possible outdoors (a hand pumped espresso, for example), you'll want to have a look around. And if you've got kids with you, Mountain Baby will truly leave you feeling like you simply don't have enough great gear for them. And in this day and age, that is an incredible statement. Judy, founder and owner, took her passion for children, Master's in Early Childhood Education, and her love of the outdoors and put it to use in this shop: Each and every item in the store, whether it be camping gear, toys, books or clothing, is selected with such care and wisdom that you can almost shop blindfolded. No matter what you end up choosing, you'll be enriched. (Okay, perhaps an exaggeration, but not by much. Stop in and let us know if you agree.) You've browsed the gear and had your coffee. Now if you're looking to head out a bit more, but aren't ready to get back in your car just yet, we understand. From Mountain Baby, you are steps away from Gerick Cycle and Ski, where for a mere $30, you can rent a hardtail bike that'll get you around town or on some easy trails. Perhaps for a ride down to Lakeside Park? And if you're feeling really adventerous, go ahead and take a full suspension bike out for the day. You're ready to head out now and enjoy a Kootenay spring weekend. ***
This blog is a repost from our sister blog, 108 Healthy Things to Do