You are here
19 Brilliant Burgers in Nelson and Area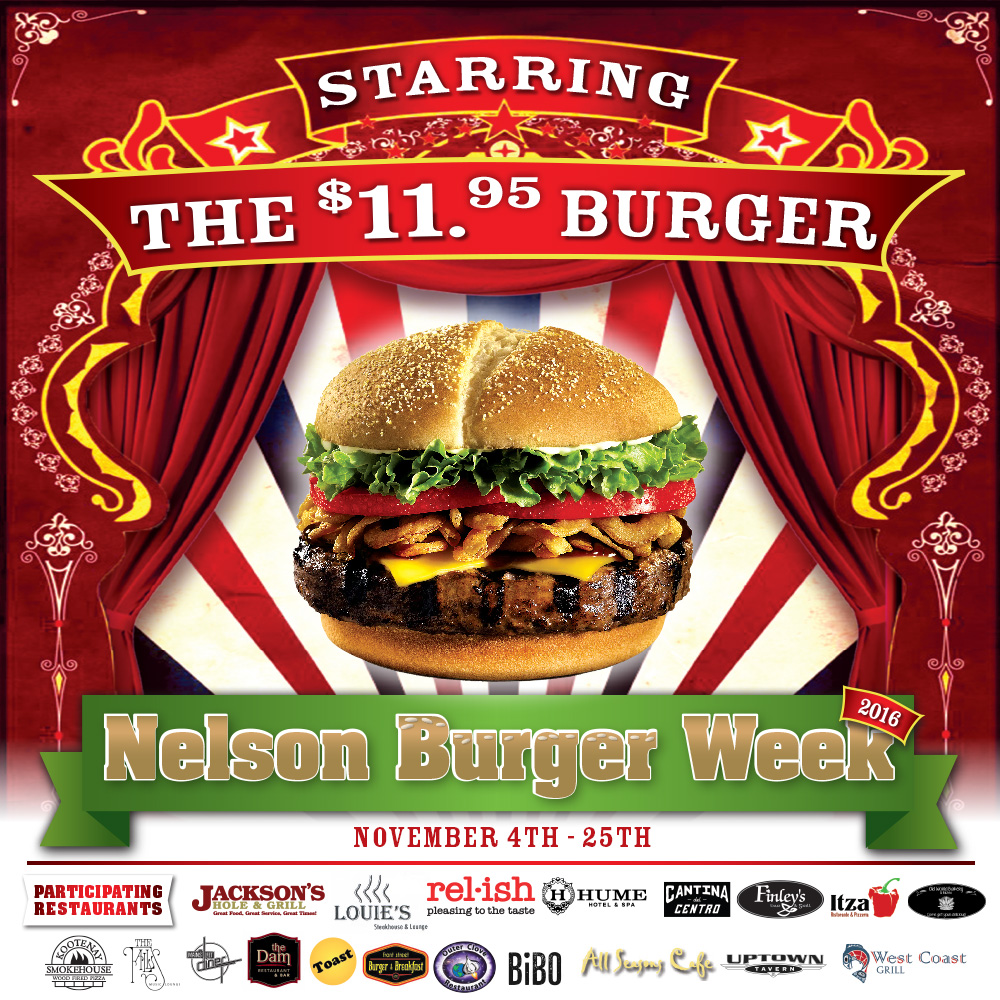 "Burger Week" is actually "Burger Month" if you talk to the chefs in Nelson and area. The annual event has expanded from one week, and runs from November 4th – 25th at 19 local restaurants this year.
The month begins with arduous burger testing and sampling by the chef and staff, until the perfect combination of patty, condiments and bun are created.
Then begins the public savouring of flavours and textures. Some places have served over 500 burgers in the first week alone. By the end there could be over 1000 burgers served at each restaurant, for a total of over 19,000 mouth-watering meals. This is quite incredible for this little City.
Chefs told us that locals and visitors from out of town arrived in groups and ordered one or two burgers, shared them, and then headed off to a couple more restaurants to partake in this burger bliss. It's a great way to walk about town, take in the heritage and culture, and explore the dining scene. Burgers are only $11.95, a fair price to explore the region's culinary prowess.
The public can vote online through the Nelson Star until November 25th. When you vote you are also entered to win a $25 gift card to each of the participating restaurants. That's a value of $475!!! TIME TO VOTE!
A select group of six well-prepared judges dined at each of the 19 restaurants. And yes, we ate a portion of 19 burgers, all in the span of three days. As one of the judges, it was tough (well maybe not that tough), but by the end it was no easy feat to decide the winners. Burgers were judged in three categories: Best Presentation, Best Taste, and Most Original. The winners of three categories and the top voted burger will be announced after November 25th.
No matter where you slice it, you'll have a delicious dining experience during Nelson Burger Week.
Big thanks to the Nelson Star for organizing this contest, and of course to all the chefs and restaurants who committed to making amazing burgers. And to all of you for getting out and trying as many burgers as possible, and voting!