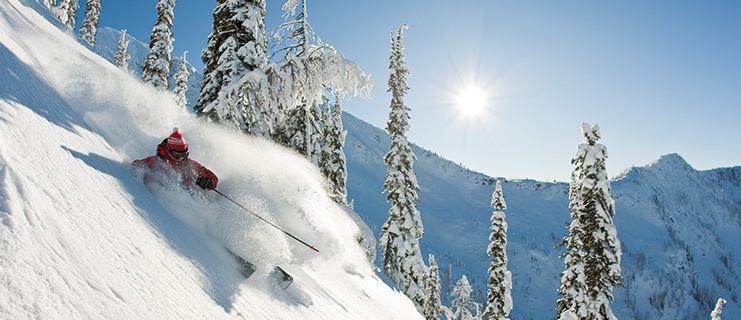 You are here
10 Stellar Ways to Get Pumped for Snow Season!
It's coming. right now we're in full-on fall glory, with gorgeous leaves of yellow, gold, orange and red providing couverture for our streets and trails. Mushrooms are growing underfoot on mossy trails, the air is crisp and clear, and our local biking and hiking trails are almost crowded with locals and visitors alike taking in every last breath of fall.
But soon, winter will come. And with it another epic season in this, the Cat Ski Capital of the World. It's here that the sport began, and here that it remains the crowned monarch of powder. At around 50 feet of that white fluffy stuff per year, there's good reason that we're considered within the best in the world by the Lonely Planet, Powder Magazine, Ski Canada and more.
How to prepare for such awesomeness? Good question. There are many ways, and I'll admit to being swayed by our neighbour to the west, Whistler, for inspiration. Local writer Feet Banks' recent post for Tourism Whistler on preparing for the season had me thinking about how one could prepare for snow in the Nelson Kootenay Lake area in a similar fashion.
Similar but different, of course. Because though Whistler and Nelson Kootenay Lake both have incredible ski seasons, we're very different resorts with very different vibes (both good — just different). So, with a nod and hat tip to Feet Banks, I'd like to offer ten stellar ways to get completely psyched for the upcoming snow season:
1. Catch the Nelson Kootenay Lake Winter Vibe
We've got a lot going on in the Nelson Kootenay Lake area when the snow falls — there's a vibe you can feel. Family friendly, casual, deep and simple, the snow falls prolifically and we play in joyfully. Watch and learn:
2. Stockpile Your Gear
It's time to take note of what you've got and what you'll need. Take advantage of sales, swap with friends, and start saving for those important downy items you'll be glad you splurged for later. We've got lots of places on historic Baker Street to help you shop local, so get started now and get your gear in order!
3. Check Out the Deals
There are always great offers being made to try to lure you to the Nelson Kootenay Lake area — Check out our travel deals and see if anything whets your appetite. And while you're at it, enter contests, too!
4. Become Your Friends' Worst Nightmare/Best Meteorologist
After going down what Feet Banks termed the "Weather Wormhole" last week, I highly recommend this activity in case you're suffering from the endless fortune telling that can be predicting winter weather. Luckily, Nelson Kootenay Lake is in that sweet spot where we're right in the eye of lots of winter storms and, protected as we are by being surrounded by lots of mountain ranges, those storms stay with us.
Still, people love to guess what the winter will bring, and while guessing is good, knowing is better. Learn from our history and from the weather channel to find out what this year will bring weather-wise. Then go educate your friends.
5. Let Our Glaciers and Protected Wilderness Inspire You
Between Sweetgrass Productions latest wonder Jumbo Wild and last year's gorgeous Requiem for a Glacier by Paul Walde, our area has got some incredible, pristine wilderness to inspire you for the upcoming season.
6. Find Your Full Bucket List
By watching an epic snowboarding video from Transworld Snowboard featuring our own Baldface. As they put it, "Bucket List is a five-part series about leaving the excuses behind and checking those shred missions off the list."
7. Bike till You Drop
Get ready for the hills by training on your bike. Nelson, Kaslo and the area has got more great downhill mountain bike terrain than we know what to do with. Ride till you drop, then wake up and go again. Gericks Cycle and Ski or Whitewater Ski Resort will set you up with some great rental options. Ride with a friend, get familiar with the terrain, and have a blast warming up (literally) to winter.
8. Hike the Area While You Still Can
Whether you take a quick jaunt up Pulpit, go a bit farther to the Flag Pole, or head out of town to the old growth cedar trails, there are lots of trails ready to teach you a thing or two about appreciating nature and her beauty. Take an afternoon, duck into the woods, and prepare your body and soul for some mountain time ahead.
9. Buy Your Pass/Book Your Trip
Do we have to mention this? In case you haven't already, take care of the pesky details! Buy your season's pass for Whitewater Ski Resort, book your trip with one of our incredible Cat Skiing/Heli Skiing providers, and book your rooms too. Nelson, Ainsworth Hot Springs and Kaslo (as well as all the Cat/Heli Ski operators) get incredibly busy in the winter, so it's important to plan ahead. Don't be disappointed. Make this winter one you'll remember for a long time to come.
10. Get in Shape!
Come on, you know you want to. Getting in shape for the upcoming snow season now is going to make you very happy come winter time. Whether you need to book an appointment with a physiotherapist, join a Crossfit class, or start jogging, get out there and do it. There are specialized programs to get you in shape just for skiing or snowboarding, too. Just do it; you'll be able to thank yourself later :)

Header image by Nick Diamond Photography