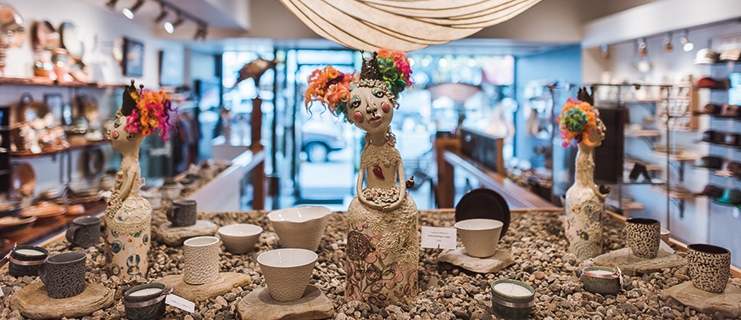 You are here
Artisans
Nelson
Nelson is known as the Number One Small Arts Town in Canada, with artisans and craftspeople in abundance. Local art hangs on many café walls, and you'll find artisans' wares at several local markets.
Craft Connection, an artist co-op in downtown Nelson, has gallery and shop space to showcase some of our artisans' best work. Also downtown, the Kootenay School of the Arts is a well regarded arts school, now integrated into Selkirk College. (And Selkirk College's Fine Woodworking program is one of the best in Canada, attracting students each year from across the country.)
Fall brings the Kootenay Artisan Fair, a well organized and friendly gathering of craftspeople selling their wares in time for Christmas.
Kaslo
Kaslo, the "Little Switzerland", is another spirited arts region. Visit the many artisans and craftspeople at their shops along the waterfront, or at markets in the summer and fall.
Balfour
The drive into the Balfour area has many blue highway markers with a letter "A" designating "artisan" along the road, indicating an artisan's working studio and shop within 3km of the highway. Each August there's a Cultural Tour highlighting several of these destinations (and more across the region), and a brochure is also available from Nelson Visitor's Centre.
And notably, taking the Kootenay Ferry to nearby Crawford Bay is listed on Trip Advisor as the number one thing to do in Balfour. The artisans of Crawford Bay are well organized, and there also food and drink options to support your visit.