You are here
We Love Our Sister Cities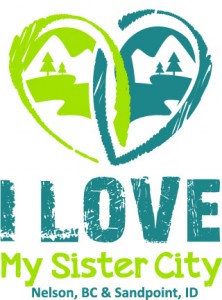 Sandpoint, Idaho became Nelson's sister city June 24, 2013 and since then there has been cross-border promotions and annual Sister Events.
Sandpoint — located about 100 kilometres south of Creston and about a three hour drive from Nelson — is a laid back, lakeside community of 7,400 tucked between three major mountain ranges. USA Today called it the country's "most beautiful small town" in 2011.
The city is home to Schweitzer Ski Resort, which is already Whitewater's sister resort. Pass holders at Whitewater get a significant discount on skiing at Schweitzer, and vice versa. And both Nelson and Sandpoint are part of the International Selkirk Loop, a popular driving tour though Idaho, Washington and BC. Read More
Linked by the International Selkirk Loop
Geographically and in spirit, the Selkirk Mountains hold our region. Tying Nelson to her sister city of Sandpoint, they are the mountains around which the International Selkirk Loop takes you on your journey. A long tour, at 450 kilometres, this scenic drive runs through eastern Washington, Idaho, as well as British Columbia. As it extends far beyond the reach of the Nelson Kootenay Lake area, it is a perfect way to see both our neck of the woods as well as our neighbours to the south.
Shared Geography, Shared History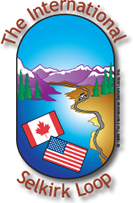 The drive cuts through several political boundaries while reminding us of our shared history. Along the route, you follow the Columbia river as well as the ancient route the glaciers took during the last ice age. You traverse the area that was home to the gold rush of the 1860s, the fur trade before that, and the route taken by the Canadian Pacific railway.
The shared history of the sternwheelers, which traveled from Astoria to Kootenay Lake not so long ago will take you to Kaslo, where you will be able to see and tour the SS Moyie, the oldest intact sternwheeler in the world. The drive reminds you of the shared geography and history of this area, and takes you along routes where you will see bald eagles, osprey, deer and elk. You'll travel through the territory of the only extant woodland caribou population in the contiguous United States (there are more caribou in Alaska, as you might imagine). If you're lucky, you'll also have a chance to see blue heron, moose, and coyotes. If you're particularly fortunate, keep on the lookout for grey wolves and grizzly bears. They live here, too.
Sister Skiing in the Winter Months
The Selkirk Mountains are also home to Whitewater Ski Resort as well as her sister resort, Schweitzer Mountain Resort, which is conveniently near Sandpoint. These two ski hills share both a penchant for deep powder, a friendly vibe and classic Kootenay hospitality. They also share a love for a good deal: If you are a passholder at either resort, you can get a discounted lift ticket at the sister resort.
Take Some Time to Explore the Selkirks
The Nelson Kootenay Lake area is home to some extreme gorgeousness. By taking a bit more time and extending your route south through the entire International Selkirk Loop, you'll be able to take in a bit more of our shared history and geography. We hope you'll have the time to drive at least a portion of the route this season. Before heading to the Nelson Kootenay Lake area, make sure to check out our website for great ideas for things to do, places to eat and accommodation.