You are here
Transit and Shuttles
Public Transit is a Great Traveling Option in and Around Nelson BC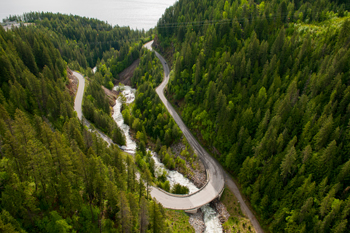 West Kootenay Regional Transit — Public Bus System
The public transit system in the Nelson and Kootenay Lake region is convenient, inexpensive and reliable. Bus stops are located in easy to reach areas and run often. All regional buses are also bike-friendly, making this combination a handy alternative to driving. There is regular service within the city of Nelson, as well as service along Kootenay Lake all the way to Balfour. Exact schedules do change with the seasons, so check the official schedule for exact travel information.
BC Transit stops near the Castlegar Airport. The best way to find route times and pickup locations is through Google Maps and clicking on the Transit icon.
Toward Balfour and the North Shore
The bus route traveling along Kootenay Lake toward Kaslo is called the "North Shore". This route goes regularly between downtown Nelson at Ward Street and the Balfour Ferry, with several stops in between.
Explore Kaslo and Area
There is a local bus in Kaslo which runs once a week on Friday mornings. For tourists, Kaslo is best seen at a slower pace, so the lack of bus service shouldn't hinder travelers. Limited public transit from Kaslo can take you to the Nakusp area and local hot springs, to Argenta and the Meadow Creek area, and to New Denver and Silverton along the Slocan Lake. Check the listings in the West Kootenay Transit for detailed information and to help plan your trip.
By Ferry
Holding the title as the longest free ferry ride in the world, The Kootenay Lake Ferry takes 35 minutes to cross from Balfour to Kootenay Bay. Different schedules apply for winter and summer months and the M.V Balfour also operates in the summer months to meet additional demand.
Taxi Service
Glaicer Cab Company shuttles people to and from the Castlegar Airport, around Nelson and up and down Kootenay Lake. They can be reached at 250-354-1111.
Shuttles
THIS SERVICE IS TEMPORARILY CLOSED (Taxi Service is offered) - Castlegar: Queen City Shuttles offers daily airport shuttles to Nelson from the Castlegar and Spokane airports. Book your seat in advance.
THIS SERVICE IS TEMPORARILY CLOSED - Spokane: Throughout the winter daily shuttles run from Nelson to the Spokane Airport via Queen City Shuttles. Details of departure and arrival times, and costs are on our Shuttle page. Private charters can also be arranged for groups and functions by contacting them directly.
Kelowna: Silver City Stage Lines runs from Nelson to Kelowna airport, departing 6:30am from the A&W 512 Railway Street, Sunday to Friday. Shuttles depart from Kelowna at 1pm.
Vancouver: Ebus runs from Vancouver to Kelowna and connects with Silver City Stage Lines bus.