You are here
Nelson Kootenay Lake is an Area Full of History
Mother Nature did a fine job crafting the Nelson Kootenay Lake district — but took her time.
The lake and staggering peaks around the region are the result of hundreds of millions of years of colliding rocks and erosion. The jagged peaks of the Purcell range to the east are carved from 1.5 billion year old sandstone — BC's oldest sedimentary rock — while to the west, a belt of granite, volcanic rock, and mudstone forms the Selkirks.
Into this landscape, several thousand years ago, entered the Sinixt (Lakes) and Ktunaxa (Kootenay) people, whose descendents are still here. Although European explorers made fleeting visits beginning two centuries ago—including legendary Canadian explorer, David Thompson, in the early 1800s—the mineral wealth in the mountains wasn't unlocked until fabulous silver-lead deposits were discovered on Toad Mountain and in the Slocan in the 1880s and '90s.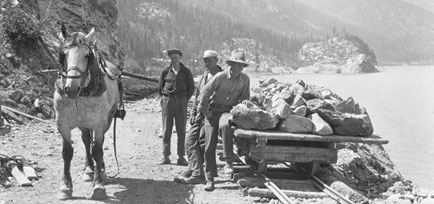 Afterward, burgeoning cities took shape on the shores of Kootenay Lake. The construction of several railways and launch of increasingly luxurious sternwheelers opened up the district, allowing the movement of passengers, ore, and goods — mostly to and from the US. Soon Kaslo and Nelson threw off their Wild West trappings in favour of more cosmopolitan flavours, and became incorporated cities. Nelson boasted an electric streetcar system and city-owned power plant — both still operating — as well as a short-lived smelter.
One of Nelson's most significant buildings, Touchstones Nelson was built in 1902 for the Postal, Customs and Revenue services. This 'Chateauesque-Richardsonian Romanesque' style building was constucted of granite, Kaslo marble, local common brick and pink brick. After a period of rapid growth in the 20th century, additions were made to the building in 1910 and 1939. Despite these, the postal facility soon required additional capacity and a new larger Post office was opened next door to the 1902 structure.
Agriculture supplemented the mining industry, thanks in part to Chinese market gardeners and Doukhobor settlers, and eventually forestry became the chief resource economy when the mines played out. The region suffered twin blows in the 1980s with the closure of Nelson's university and sawmill, resulting in a mini-exodus, but those who remained realized the city's past could also be its future: the facades of Victorian buildings, long since covered in aluminum siding, were restored to their former glory.
And where once the mountains were alive with the sounds of miners working their claims, now you're far more likely to encounter backcountry hikers and skiers. Today, the communities of Nelson, Balfour, Ainsworth, Kaslo and Lardeau Country also boast vibrant arts scenes, chock-a-block with more than our fair share of writers, visual artists, musicians, actors, and artisans.
As of 2006, Touchstones Nelson serves as a museum, archive, and art gallery, displaying the culture and history of Nelson BC and the District.