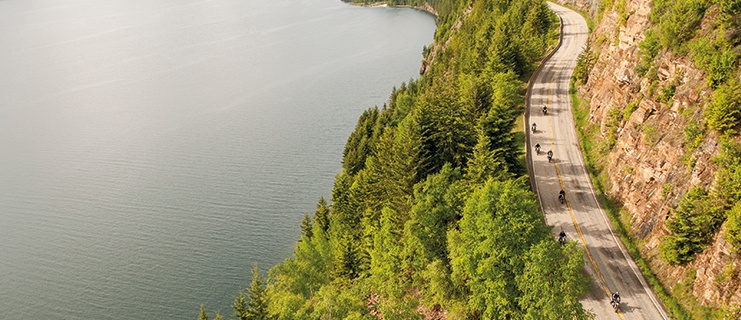 You are here
Motorcycling
Learn the Secret Many Motorcycle Tourists Already Know
With winding roads boasting impressive scenery, Kootenay Lake is a must-ride destination for motorcycle touring. Most roads have well maintained surfaces, great visibility and many passing areas. There are also many opportunities to stop off for a bite to eat and visit charming towns and communities.
Visit our local motorcycle shop, Main Jet in Nelson BC, and chat with the team there for information on where to ride, road conditions and get your bike all ready for your trip.
While visiting our magical area:
Please respect the speed limits (80km/hr outside municipalities and 50km/hr within municipalities) and noise bylaws (can not exceed 60 dBA/dBC daytime and 50 dBA/dBC nighttime). We all love this area and want to keep it our little, peaceful piece of heaven.
Kootenay Lake Weather and Road Conditions
Riding conditions are typically fine from April to November, but be sure to check road conditions before travelling in the cooler months when roads are less preferred for motorcycle travelling. Visit our Weather & Roads and Trip Planner Information page for more details. For specific motorcycle camping and cabin rentals be sure to stop at Toad Rock Motorcycle Campground just north of Balfour. For more details about the area and what to do stop by one of our Visitor Centres.
Motorcycle Touring — Kootenay Lake Self Guided Tours
Explore Nelson Kootenay Lake by motorcycle with one of the following self-guided tours:
The East Shore Loop
The West Kootenay Corridor Loop
The roads around Kootenay Lake have recently been highlighted in an article from The Globe and Mail - "Explore B.C.'s Interior on a twisty tour around Kootenay Lake"