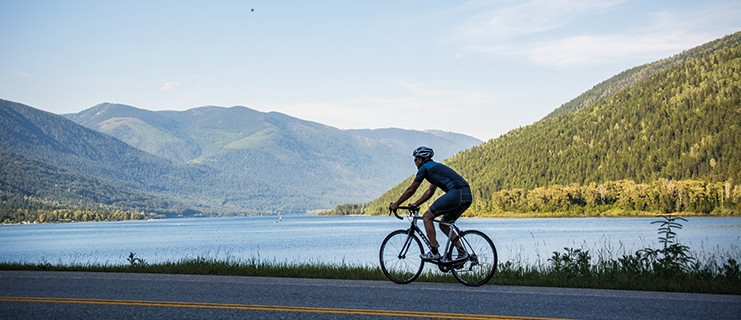 You are here
Road Biking
Cycle Quiet, Well-Maintained Highways Along Kootenay Lake
If you're a road cycling enthusiast, you know how precious kilometre after kilometre of well-maintained roads with low traffic can be. The Nelson and Kootenay Lake region has several road cycling tours that take you along highways and roads through some of the most gorgeous country you'll ever experience. It feels remote, and yet there are ample cafes, rest stops and accommodations along the routes, making for a near perfect road cycling experience.
MSBike West Kootenay Glacier Challenge
We can't wait to welcome you. The MS Bike West Kootenay Glacier Challenge, which began in 2011, is now a signature event that has gotten rave reviews from many who have taken on the challenge. Though it isn't the easiest of routes, the 212 kilometres around the glacier from Nelson to Kaslo and back again to Nelson help remind you that you are alive. This route is on many locals' bucket list.
Many Road Cycling Routes Around Kootenay Lake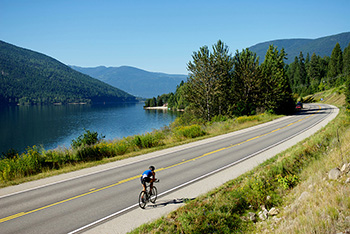 But there are many more routes to match the Glacier Challenge in sheer gorgeousness as well as the challenge of steep ascents coupled with fast downhills. Embark on a ride through Rosemont and Blewett in Nelson, and even farther into the Slocan Valley to the local favourite at Frog Peak junction to Castlegar and back. The Kaslo Chamber of Commerce lists many routes on their website, so take a look and see which one is a good fit for you.
The International Selkirk Loop puts on an annual 7 Day Ride, WACANID (Washintong, Canada and Idaho). The 2017 ride looks like this.
September 10 - Welcome dinner and registration in Sandpoint
September 11 - Sandpoint to Colville
September 12 - Colville to Rossland
September 13 - Rossland to Nelson
September 14 - Day off in Nelson
September 15 - Nelson to Creston
September 16 - Creston to Sandpoint
Nelson and Kaslo are Bike Friendly Towns
We know how important it is for road cyclists to feel that they're in a bike friendly town. Nelson has many bike shops that will help you with all that you need, and many of our places to stay are very bike friendly. All the transit buses and ferries accommodate cyclists, and the highways are mostly wide and well maintained. There is very little traffic during most of the year along our highways, and our back roads are extremely quiet.