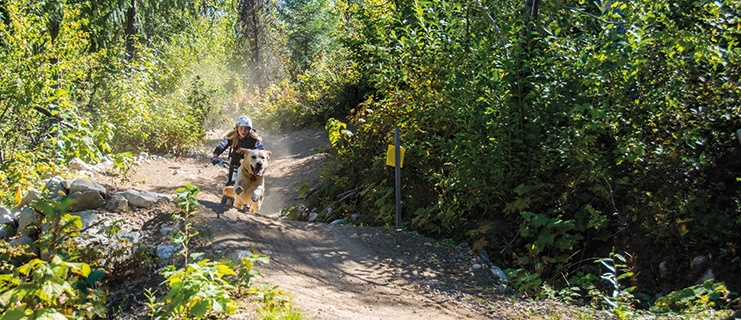 You are here
Biking
Cycling is extremely popular in the region, from beautiful road riding on lakeside and mountain roads, through to an intricate network of mountain biking trails for all experience levels. Bike rental options, from ebikes to mountain bikes, are also available.
Mountain Biking
Mountain biking ranges from gentle trails around Nelson to intense and technical mountain tracks. The annual Nelson Fat Tire Festival brings biking focus to the region, and there are a broader network of trails once you head up the nearby valleys.
There are detailed trail map guides for sale at local stores for both Nelson and Kaslo.
Road Riding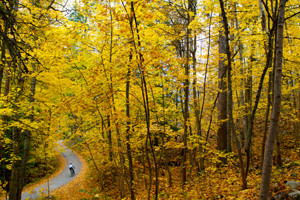 Many tours loop through the area, and Nelson's amenities also make it a great starting point for a road adventure. Roads are well maintained with wide shoulders, and of course have spectacular views of Kootenay Lake and the surrounding mountains.
Tours range from the annual MS Bike Tour - West Kootenay Glacier Challenge to the more mellow, fun trips from Kaslo to Meadow Creek or New Denver. Kaslo Chamber of Commerce's website has a number of road cycling tour options.
Bike Parks
There are bike parks in Nelson (PDF of location) and Kaslo for those who like tricks and jumps. Nelson's bike park is immediately next to a renovated skateboard park that rivals the best in BC. Kaslo's Bike Park is located on the Kaslo River Trail, nestled in the woods and with a view of the river rushing by - picturesque and perfect for the family.
The East Shore of Kootenay Lake has a variety of trails and information can be viewed on their bike and trails website.
Self-Guided Tours
Nelson and Kaslo both offer a variety of self-guided tours: follow along on our digital map or pick up your Self-guided Tours brochure at the Nelson or Kaslo Visitor Centres. Ebike rentals (for our hilly terrain) are available at Gerick Cycle and Ski.
Preventing Invasive Species
When biking, please keep in mind that invasive species can hitchhike on your clothing and gear and be unintentionally spread between regions. For practical tips on how to prevent this, please visit the CKISS website.