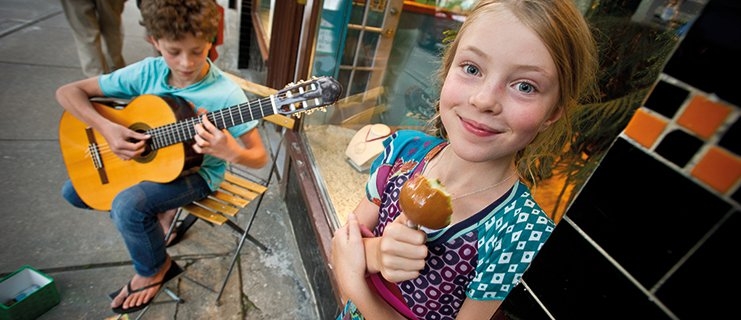 You are here
Kootenay Kids
Kid-friendly parks and activities in Nelson, Kaslo and the region
From family-friendly hikes to waterfront parks to relaxing on the beach, kids are well catered for in Nelson and Kootenay Lake.
Parks
Nelson parks can be full-day excursions, and are all close to downtown.
Lakeside Park is popular, close to the famous Big Orange Bridge and next to a beautiful sandy lakeside beach complete with swimming area. It has a shaded playground, a large picnic area, and plenty of grass to spread a blanket. A concession stand serves healthy organic snacks as well as some fast food options. Just west of the beach and playground are large playing fields for kite flying and sports.
Gyro Park, in the middle of Nelson, has a toddler and child swimming pool as well as short, easy trails to explore through lush gardens—not to mention an incredible lookout point for admiring all of downtown.
Lion's Park in the uphill area of Nelson (south of downtown) offers a fun waterpark, great playground, and big playing field for frisbee or soccer.
In Kaslo, there are hikes along the trails in town as well as down along the beach. A few minutes' drive takes you to the stunning Fletcher Falls, or you can head up to Mount Buchanan or to the woods at Monica Meadows for a glorious day outdoors.
Hiking and trails
For the more adventurous, Kokanee Creek Park has hiking trails that are manageable for little hikers. The park also has a great playground, a beach with beautiful views up and down the lake, and an info centre where kids can learn about local wildlife and plants.
Sproule Creek, a few kilometers west of Nelson, also offers a good, easy trail for families.
For little ones in a carrier, a hike up Pulpit Rock is a popular option, with a well worn trail acessible over the water from Nelson near the Big Orange Bridge (Bob). This trail offers a birdseye view of the city and the surrounding mountains, as well as an awesome workout! It's a fairly steep trail, but kids four and up can handle the hike. The family photos you'll get from the top are worth it.
Winter adventures
Many local kids start winter sports at 2 ½ or three, so activities in the region cater for all ages.
Just a half-hour drive from downtown Nelson, world-class downhill skiing can be found at Whitewater. They have child-friendly learning slopes and rentals for all ages, as well as a varied and renowned selection of meals and snacks for your ravenous kids.
Cross-country skiing is also available at the Nordic Ski Trails, near the highway turning to Whitewater. Pulks are available to rent, for pulling your littlest kids.
Of course, snowshoeing, sledding and snowman building can be done anywhere! Skating is also provided by indoor rinks.
And before investing in serious gear, you may want to get "play" skis, snowshoes, snowboards, and bobskates—these allow your kids to try out sports and see if they like them. Find all of these and more, including ski harnesses, sleeping bags, and hiking gear, at Mountain Baby in downtown Nelson.
- Based on writing by Judy Banfield of Mountain Baby