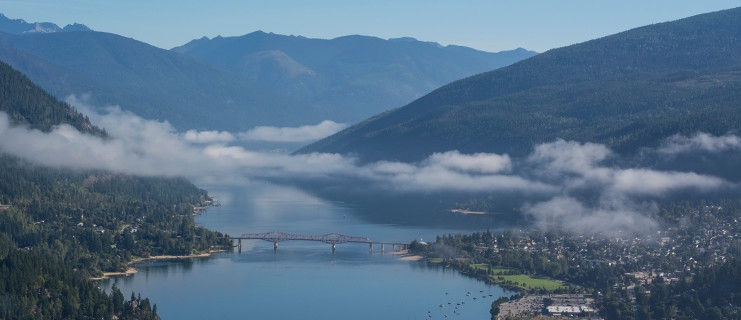 You are here
Bridges
Explore the Nelson and Kootenay Lake Area and Tour Our Heritage Bridges
The history of the Kootenay Lake area can be told through its bridges. Many of the area's historic bridges are accessed along running, biking and hiking trails. They tell tales of old railway routes, communities that existed before our hydroelectric dams were built, and to an earlier era when sternwheelers plied the waters of the Columbia River and Kootenay Lake.
One lovely way to experience the heritage of Kootenay Lake is by traversing our bridges or meandering along our trails and roads. Railroad trestle bridges along the Greath Northern Trail and Burlington Rail Trail are just two ways to get outside and see our gorgeous countryside. Among other bridges in the area are the Cottonwood Creek Bridge, Kaslo Bridge, Coffee Creek Bridge, the old Taghum Bridge and Fletcher Falls Bridge.
Of course, the one iconic bridge you'll immediately notice as you enter Nelson is "BOB", our Big Orange Bridge traversing Kootenay Lake. The bridge is a favourite for cyclists, walkers and joggers, with wide sidewalks and incredible views up and down the lake.

Kaslo River Trail and Kaslo Trailblazers Bridge
Opened in 2008, the Kaslo River Trail is a favourite walking and hiking spot for residents and visitors. The picturesque Kaslo River Trail features a North and South section and two beautiful magenta bridges: The Trailblazers' Bridge and the Unity Bridge.