You are here
Artisans
As the Number One Small Arts Town in Canada, Nelson Loves Our Artisans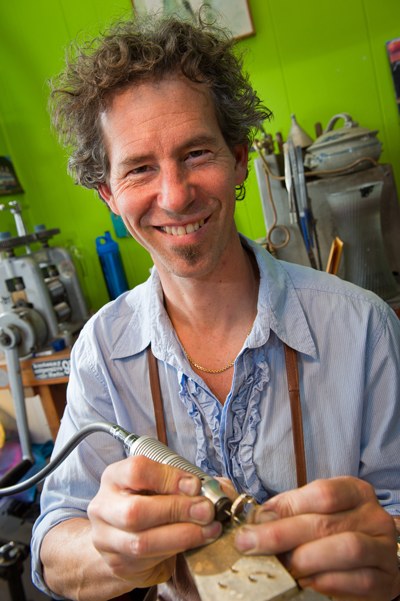 Nelson and the entire Kootenay Lake area loves our artisans and crafts people. It's hard to pinpoint why our area is so artistically rich and diverse, but there's no doubt that we highly value the arts. There are many indicatons that our artisans are important to us: From our local college, Selkirk College, which includes the Kootenay School of the Arts as well as a nationally acclaimed Fine Woodworking program among its many subject areas, to the fact that a large and well established Artisan co-op has a storefront on Nelson's main street. (Photo of local jeweller and artist Chris Komel).
You Can't Swing a Cat Without Hitting an Artisan's Studio
Literally. Our area is awash in artisan's shops and studios. The Craft Connection opened more than thirty years ago, and is still going strong, with prime real estate on Baker Street and a thriving membership. The store itself features more than 150 artists and artisans, with its downstairs gallery, Gallery 378, always hopping with more fine art and larger pieces. Another hot spot for artisans is Balfour, along Kootenay Lake on the way to Kaslo from Nelson. There is no formal artisan collective in Balfour, but you'll immediately notice when you make the drive that there are many "Blue A" highway signs denoting artisan's studios along the highway. The signs indicate that there is an atisan's studio within 3 kilometres of the highway. Kaslo, too, is chock full of artisans and crafts people.
Shop Farmers Markets and Seasonal Craft Fairs
You can shop for our local artisanal works at many of our local downtown shops (in both Nelson and Kaslo) as well as in the artisan's studios in Balfour. But many of our local crafts people sell their wares seasonally at both farmers markets as well as at the annual Christmas Craft Fairs that are held in late November in Nelson and Kaslo. Throughout the summer there is Artwalk in both Nelson and Kaslo as well as the Columbia Basin Culture Tour.
Public Art in Nelson and Kaslo
There is a large inventory of public art throughout Nelson, with sculptures, murals and art infrastructure created by both local and international artists. Walk about town and you'll be impressed and hopefully moved by what you see. Kaslo also has a collection of art throughout the village, with new stores and artisan shops displaying their wares on Kaslo's vibrant streets.