You are here
Culinary
Food-lovers' delight, from local food to culinary festivals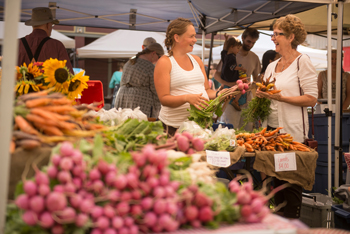 From the annual "Deconstructing Dinner" film festival to the Taste of Nelson and our annual Grand Food and Wine festival, Nelson and the region have incredible culinary festivals and an unwavering commitent to "true local" food.
Market Festivals
Every summer and into the fall, Kaslo and Nelson both host several farmers markets, with farm-fresh produce and locally made crafts. There are Saturday markets in both locations, and Nelson also has a Wednesday market downtown from 9:30am–3pm, June to September.
Nelson also has monthly Market Fests in the summer months, where the entire city comes out for the festive evening.
In addition, Meadow Creek has a Sunday market throughout the summer and fall, with spectacular local food and offerings.
Local Food
Our region has gone to great lengths in preserving local farming culture and supporting the "true local" movement. (Read this article in The Atlantic about local food's importance to an economy.)
Small organic farming has been re-established, and our local craft brewery is fully organic. Our grocery co-op, the largest independent food co-op in Canada, encourages the buying of local food, and our restaurants and brewery also source from nearby farms as much as possible.
Annual Food Events
We are proud of our local food heritage, and this has resulted in several annual food-lovers and culinary events:
Deconstructing Dinner
Taste of Nelson
Nelson Wednesday Markets
Market Festivals
Cottonwood Markets
Kaslo Markets
Meadow Creek/Lardeau Markets.