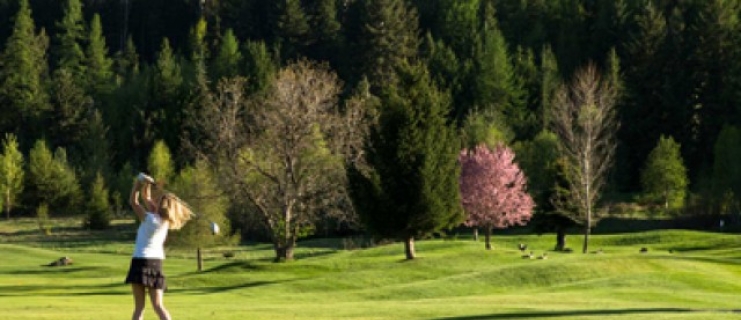 You are here
Golf Season Begins!
Granite Pointe Golf Club Opening Day
Golf season starts in the Kootenay area this month, and all the area golf courses are getting ready for an excellent season. Granite Pointe, Nelson's local golf course, opens for rounds on April 12th (driving range is open already) and is holding its Open House on April 13th to showcase the pro-shop. It's full of great merch at the moment and anyone who spends $100 or more in the shop is going to be entered to win some great prizes...so if you're in town for this, you'll want to stop by the course and see all that's new and happening.
We had the chance to sit down with Graeme Ward from Granite Pointe to talk to us about why he loves Granite Pointe and what this season holds for the legendary community golf course.
Historic Golf Course Part of Community
Nelson's Granite Pointe has been a part of the Nelson community since 1919, and though it's a great place for visitors to come for a round of golf, one thing you'll notice and appreciate as much as the views (which are notorious & beautiful) is the sense of community at the course. There's a quiet and relaxed feel at Granite Pointe which is evident on the greens and also in the club house restaurant. In fact, Graeme noted that his favourite thing about Granite Pointe is "the growing Granite Pointe community. We have more than 40 new members this year, and a tonne of events." The events this year are really becoming a much larger part of the golfing experience at Granite Pointe, and, as Graeme says, "those are just as important to the golf experience." We agree. Golf in Nelson carries a wonderful balance: Though the course is gorgeous, and people take their golf seriously, there is always a relaxed and fun air to the course. Members are friends, and this is nowhere more evident than in the clubhouse after events.
How To Improve Your Game: Go with Friends & Have Fun
When asked for advice on how to improve your game this golf season, Graeme gave some unexpected but very Kootenay advice: "Go with friends. You can worry about swing technique when you're alone on the range, or taking a lesson. When you're on the course, the less competitive you are, the more fun you'll have. Take it from a competitive person who sometimes has a lot less fun than he could." That makes so much sense. Golf is a great sport for this modern age. If you are choosing a Kootenay vacation, adding golf into the mix is a great way to take a step back, slow down and spend quality time with friends. Along with this idea of slowing down and enjoying time with friends, of course, comes the idea of walking the course rather than renting a cart. But again, Graeme gives some great insight into this...which allows you to relax even more and enjoy your day. He says that he prefers walking the course, but encourages visitors to use a combination of waling and renting a cart:
"I prefer walking myself (my parents beat exercise into my head as a kid). But the back nine at Granite Pointe can be a tough walk if you're not used to it, so I think it's nice to have a cart at least for the second half of the round. It makes it easier to enjoy the views."
And, another great piece of advice from Graeme on how to approach the game, especially if you are a newcomer, is to join in an event.
Join Golf Events This Golf Season
"Playing a new course in a fun event is something visitors to the area are missing out on. Granite Pointe is moving away from the competitive tournament to the highly social tournament. And practically none of these are exclusive. We want to see new faces, and I can't think of a better opportunity to have a unique golf experience than playing in our Grinchmas tournament, or our Season Opening Social. That would make for a pretty unique golf vacation." Awesome advice.
Include Golf in Your Next Kootenay Vacation
If you'd like to include Nelson in your Kootenay golf vacation, or if you'd like to include golf in your Nelson Kootenay Lake vacation, you'll want to check out the Kootenay Golf Trail that promotes 7 course from Christina Lake to Kokanee Springs, including Balfour Golf Course. The Kootenay Golf Trail is offering visitors a chance to play your choice of 5 of 7, 18-hole golf courses for the same price that you'd pay for two rounds in the Okanagan. Since Nelson and Balfour are right in the middle of the trail, it's a great stop to make on your next golf vacation. For a 9-hole golf experience visit by the Kaslo Golf Club while touring around, or for some fun with the family play the par-3 Eagleview Golf Course in Balfour at Kooteay Lakeview Lodge. ***
This blog is a repost from our sister blog, 108 Healthy Things to Do