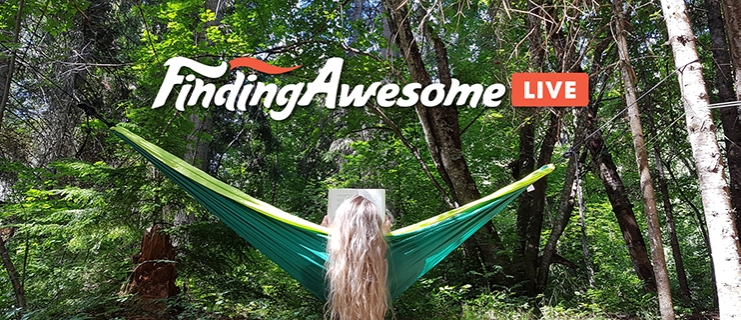 You are here
Finding Awesome Goes Live
Over 10,000 photos and 1500 videos were submitted by people like you into our Finding Awesome campaign over the past year. Incredible! Thank you! In addition, Freeride Entertainment produced nine stunning Finding Awesome videos that tell stories of the kid in all of us. And, we had a team taste and travel the area showcasing Food & Culture in a series of nine more videos. That's a lot of awesome content!
To recognize these many moments captured across our region, in all four seasons, we are inviting you to watch, laugh, learn and win as we Find Awesome together. A team of five camera crew, producer, director, witty host, social media manager, and guests will be giving you an hour of powerful imagery, and prizes!
March 11, Sunday, 5:30-6:30pm PST
Sit down at your computer or one of the local pubs (The Vault, Kaslo Hotel & Pub or Uptown Sports Bar) and be entertained while host, Mitchell Scott from Kootenay Mountain Culture Magazine, interviews locals, tourists, special guests, and gives away heaps of prizes donated by local businesses.
Watch the event on our Live Stream page www.findingawesome.ca/live or facebook page.
Thank you to everyone who has made this event possible! And to our many generous tourism businesses for donating awesome prizes!
Shambhala Music Festival / Savoy Hotel 
- One 2018 Shambhala General Admission Ticket
Kootenay Lakeview Spa Resort & Event Centre 
- One Night Stay
Kaslo Jazz Etc. Festival
- 2 Single Day Passes for Aug 3
West Coast Grill
- $50 Gift Certificate
Blue Sky Clothing
- Two $25 Gift Certificates
Kootenay Cycling Adventures
- Two Full Day Bike Rentals
Craft Connection
Local Art - TBD
Gerick Cycle & Ski
- Two Bike Rentals & Two Water Bottles
Oso Negro
- Tote Bag
Nicole Bigg Design
- Necklace
Logden Lodge
- One Night Stay
Kootenay Wild
- 1 Day Fishing on Kootenay Lake
Capitol Theatre
- Four Tickets to Constantinople – Itinerant Gardens on May 13
Beach Taghum B&B
- One Night Stay
Kaslo Golf Club
- Two Rounds (18 holes) of Golf
Sail Nelson
- T-Shirt & Tote Bag
Cantina del Centro / Yum Son
- $25 Gift Certificate
Kastlerock B&B
- Hand Carved Wood Rooster
Nelson Paddleboard & Kayak Rental
- Full Day Paddleboard or Kayak Rental
Sea of Wolves
- Two $50 Gift Certificates
Mistiso's Place
- One Night Stay
Whitewater Ski Resort
- Growler, Toque, Sticker, and 50% off Growler Fill
Bruce MacDiarmid - Pottery
Pottery
Balfour Golf Course
- 2 Golf Passes
All Seasons Cafe
 - Three $25 Gift Certificates
Kootenai Moon Furniture
- Throw Blanket
Kootenay Mountain Culture
- Hat & Shirt
Otter Books
- Local Book
Langham Cultural Centre
- Free Admission to a Show
Get ready…you're about to be taken on a whirlwind journey across the region, filmed live from the Spiritbar at the Hume Hotel. March 11, Sunday, 5:30-6:30pm.