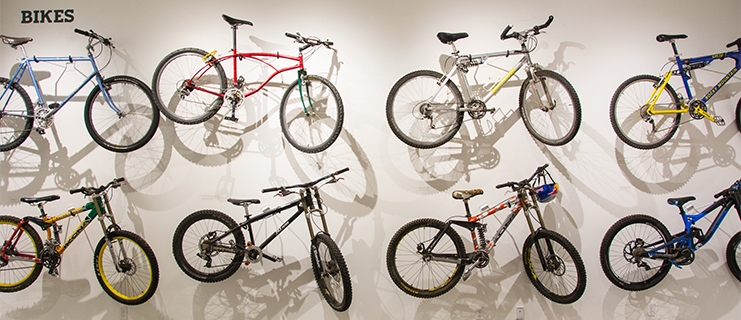 You are here
Mountain Biking in a Museum? Only in Nelson!
By John Bowden
How do you know when a town has a genuine mountain biking passion? It could be the dozens of trails that weave their way through the mountains, attracting locals and visitors from around the world. Maybe it's the frequent sight of full suspension bikes cruising up and down city streets, that sit idle on a patio after a ride, or that hang from vehicles as road trippers roll in to town. But when the local museum puts on an exhibition to the sport, that's the clincher.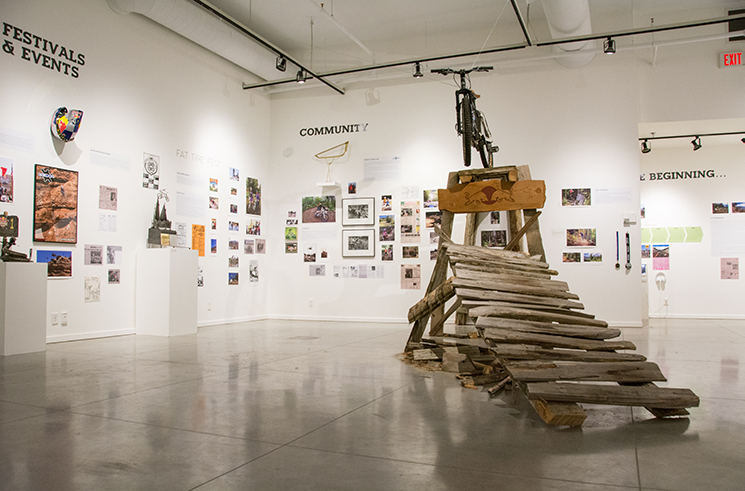 A Mountain Biking Retrospective is the newest gallery feature at Touchstones Nelson Museum of Art and History. On display until November 4, 2018 the exhibition is a deep dive into Nelson's celebrated mountain bike culture. Trail maps, paintings, photos, interviews with local legends, and even some early bikes chart the sport's local evolution.
When Touchstones Executive Director Astrid Heyerdahl landed the job two years ago, one of the first questions she asked was how many mountain biking shows the museum had put on. The answer? None. An avid mountain biker herself (it was a major part of the reason for her move to Nelson), Heyerdahl reached out to put the show together.
"We needed to speak to the community in a relevant way, and explore history topics that are exciting to the people in the community. Mountain biking is so significant and relevant to Nelson," notes Heyerdahl.
Local mountain biking pioneer Mark Holt agrees. "It's good to have some recognition of the recent history that's helped to shape Nelson. The exhibition is an opportunity to bring everyone together, even those who don't know the extent of the sport."
Holt should know just how popular the sport is. Having helped to build trails over the past two decades, organize events, and as a co-owner of The Sacred Ride bike shop, he's seen the sport evolve from its steep and deep roots.
"Now there's more to choose from, with trails expanding for intermediate riders and families. For a small town, we also have an impressive selection of high end product at multiple bike shops."
Heyerdahl also sees this change reflected in the exhibit and on the trails. "The mountain bike community has been thrilled to see their history and stories on the walls. The sport shifts and morphs as people have families, change jobs, and evolve, so it makes sense that trails are becoming more accessible. Morning Mountain is a perfect example." The new Fairly High trail (part of the coast to coast Great Trail) opens up this popular area to more riders.
What does the future of mountain biking in the Kootenays hold? "Mountain biking was never really pushed until recently, it was just mostly word of mouth," says Holt. Now, with a more varied trail network, family friendly rides, electric bicycles opening up the sport to new riders, and a growing awareness of the local scene, the secret is starting to get out; Nelson is a must visit destination for mountain bikers.
Make sure to check out this unique exhibit along with the curated selection of bike-themed artisan goods in the Touchstones giftshop. And if you are looking for a map of the biking trails the Nelson Mountain Bike Guides are available at Gerick Cycle and Ski, Valhalla Pure, and Sacred Ride. All funds go to support trail building through Nelson Cycling Club.