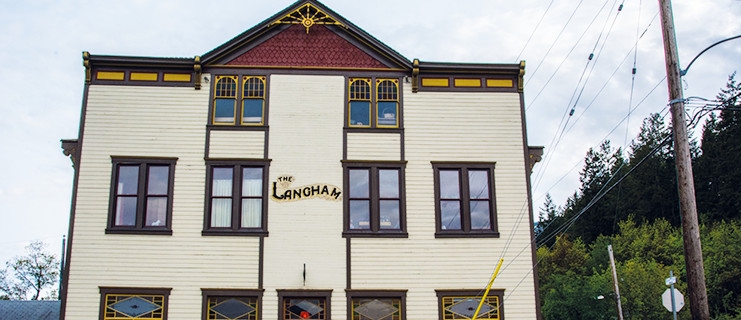 You are here
Heritage
Experience Our Heritage Throughout the Nelson Kootenay Lake area
Come visit the Nelson Kootenay Lake area and experience the heritage that tells a story of our long and rich history. From the beginnings, as a sacred location for the native people who lived here, to its time as the Queen City and a hub of commerce and activity to today, as a rich adventure tourism destination and heritage capital of British Columbia, the Nelson Kootenay Lake region has been a remarkable place.
Self-Guided Tours
Our Self-guided Tours brochure can be viewed online or grab your copy from the Nelson or Kaslo Visitor Centre or Gerick Cycle and Ski. You can also do a self-guided tour using our digital map.
You can take a number of Heritage Walking Tours or explore the waterfront via a heritage cable car, not only beautifully restored but managed by a team of dedicated volunteers who bring history to life each summer and fall.
The Touchstones Museum in Nelson recreates our history in a gorgeous interactive exhibit that pays tribute to all the rich heritage in our past. Though a visit to the museum should be part of any heritage tour to this area, why stop with a museum when our heritage is everywhere?
From the SS Moyie in Kaslo, a gorgeously restored sternwheeler and the oldest intact sternwheeler in the world, to the Chamber of Mines (did you know that you can still stake a claim and try your luck at gold panning in the region?) to the old ghost town of Sandon; our heritage is alive and well.
The village of Kaslo and the city of Nelson are both chock full of heritage buildings, from their firehalls to the Langham Cultural Centre, which was just acknowledged as one of BC's Best Buildings in the BC Best Buildings competition, commemmorating the 100th year of architecture in British Columbia. With over 350 heritage buildings, Nelson is known as the heritage capital of British Columbia. Our meticulously and lovingly restored downtown makes shopping a fun experience, devoid of large box stores and full of local curiosities and shops.
And the entire Lardeau Valley and Meadow Creek area is a place steeped in natural beauty and heritage. Take a drive out along the Lardeau River and experience the area as it may have been seen one hundred, two hundred or even five hundred years ago. John Mitchell has created an informative video about the Ghost Towns of Lardeau It's worth a watch if you're planning a road trip and want to take in the historic ghost towns in the Nelson Kootenay Lake area.
There is so much history in the Nelson Kootenay Lake area, and our community loves to restore and share it with visitors. Take some time to explore our area and see for yourself why we're known as the heritage capital of British Columbia.