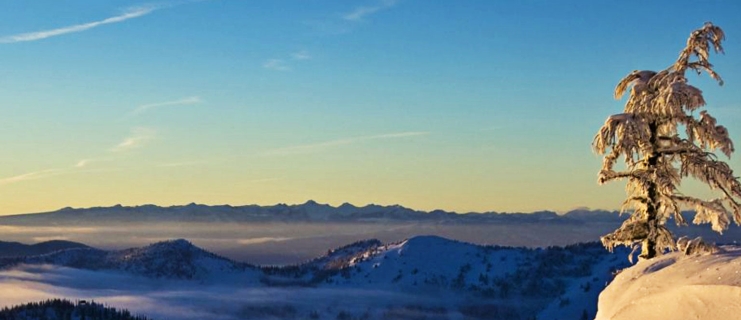 You are here
Whitewater: Small Town, Big Snow
Article by Alf Anderson: originally posted on independent.co.uk Travel Section
A few miles from Whitewater ski resort in British Columbia you'll find a little old mining town called Ymir – more of a village really. Among the scattering of Victorian buildings is the Ymir Hotel, which dates back to 1896 and is one of the oldest hotels in the region. It has much in common with the nearby ski resort in that it is quiet, isolated and home to unexpected curiosities.
cted comes in the form of the largest private art collection in British Columbia. Guests are encouraged to browse, even if they've only popped in for a beer. In the case of Whitewater, the surprise comes in the form of some of the best snow conditions and tree skiing to be had in Canada.
Whitewater is tiny by European standards, with just four lifts, serving 78 runs, and a very modest vertical drop of 2,044ft from a high point of only 6,700ft. But there's a hidden bonus: Whitewater has an annual average snowfall of 40ft. Yes, you read correctly: 40ft. So, you can see why ski photographers and filmmakers flock here to get their action shots. In fact, the chances are that the next time you pick up a ski magazine some wild action from Whitewater will feature among the most spectacular pictures – for they enjoy leaping off cliffs in these parts. Aspiring free-riders like myself also tend to be drawn to Whitewater, even if we have no real desire to leap off cliffs. The lure of 40ft of "cold smoke", as the locals call powder, is a big draw, but the tree skiing is also among the best in Canada. And when the resort opened up a whole new stack of lift-accessed glades a couple of seasons ago, that lure became too much to resist.
All of which is why I'm standing with ski local patroller Andrew Voigt at the top of Whitewater's Glory Ridge chairlift. We're about to take on one of the resort's newer gladed runs, but we stop first to admire the views, which are classic BC: forested mountains draped in snow as far as we can see and little sign of human activity other than in the resort. Towering over it all to our right is the craggy face of the 7,867ft Ymir Peak, which culminates in a perfect triangular summit. (The preponderance of the name Ymir locally comes from the fact that many of the region's early European settlers were Nordic, Ymir being the name given to the Norse frost giant.) I ask Andrew not to take me down anything too terrifying, so we begin by dropping into the easy blue of Ramble On, where the pines are widely spaced, the angle is easy and the snow is soft and forgiving. We descend diagonally on to a black called Jack Leg Glades, where the trees begin to crowd in a little more and the slope gets steeper, but it's still fun and the snow is still soft and light, then suddenly we're under the lift line and heading for the base station. It's all over pretty quickly compared to the average descent in the Alps, but the concentration involved in skiing trees – which are not often a big part of European skiing – makes the length of the slope almost meaningless. Andrew and I are living in, and for, the moment. And we're enjoying every second of it. As we ascend again on the two-person Glory Ridge chair I ask Andrew what it is that's kept him skiing here for 14 years. "It's the consistent quality of the snowfall – that simple," he says. "And the way the small-town vibe of Nelson carries up on to the ski hill." Ah yes, Nelson. Nelson is Whitewater's satellite town, about 15 minutes' drive away. There's no accommodation at the hill, just a great restaurant and bar with its own widely acclaimed recipe book, Whitewater Cooks, plus a small souvenir shop. Nelson was recently voted "Best Ski Town in North America" by readers of the influential Powder magazine, sharing the accolade with nearby Rossland, which serves the Red Mountain Resort (also well worth a visit if you're skiing in this area). Nelson's origins as a tough silver-mining and lumber town situated on an arm of Kootenay Lake are still plain to see in its historic downtown area. The mining and lumber industries eventually collapsed and, in recent years, many of the town's old buildings have been converted into coffee houses, eclectic shops and bars, restaurants and music venues, along with the restored Capitol Theatre. It reminds me of Hebden Bridge in West Yorkshire, where I grew up; a dying old industrial town in a lovely setting that has re-invented itself by attracting creative outdoor types who give the place an unpretentious, welcoming feel. Andrew is right about that small-town vibe also being present on the hill. Everyone seems to know each other and will soon start chatting to the stranger in town on the lifts and in the base lodge. They'll enthuse about the local skiing in a way that may seem just a little over-the-top when you consider how small Whitewater is. But if your ski hill enjoyed 40ft of snowfall every winter, wouldn't you get a bit excited too?
Travel essentials
Getting there
Frontier Travel (020 8776 8709;
frontier-ski.co.uk
) offers a week at Hume Hotel in Nelson, with breakfast, plus a six-day lift pass, car rental and return flights from Heathrow to Cranbrook via Calgary from £2,018pp, based on two sharing.
More information
skiwhitewater.com